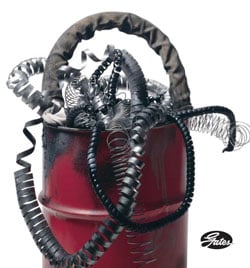 Most hydraulic hose is not really that tough, that's why it needs spring guards and nylon sleeving to give it any chance of surviving more than five minutes in harsh environment. But MegaTuff hose from Gates is tough by name and tough by nature.
Abrasion is the enemy of ordinary hydraulic hose. Continually rubbing against metal or other hoses, a hydraulic hose will soon wear away, spring a leak and need replacing. Even with a spring guard or nylon sleeving, most hydraulic hose can't stand up to constant abrasion, day after day. Which means you end up replacing the same hose again and again, costing you money every time. However, there is an alternative.
Abrasion Resistant
Gates MegaTuff hose is designed and manufactured to withstand abrasion without any additional protection. It not only has a special cover construction, but also compounding that uses high-performance engineered plastics, in an innovative manufacturing process. The result is exceptional abrasion resistance, and a cover which – thanks to its special bonding – stays put even when abraded. Covers on some competitive hoses soon peel away, removing any protection and exposing the hose to damage and possible failure.
These design and manufacturing improvements make a massive difference to the performance of MegaTuff hose. During stringent abrasion tests MegaTuff lasted up to three hundred times longer
than standard rubber-covered hose.
Flexible Design
Despite its toughness, MegaTuff hose is still flexible, maintaining minimum bend radius performance. And it's still suitable for bundling, when it will still last longer than any other hose. Although abrasion is the greatest threat to hose, and the challenge that MegaTuff is designed to beat, MegaTuff hose is also highly resistant to ozone and weathering, helping it to last even longer.
Available in internal diameters from ³⁄8 inch to 2 inches in spiral wire construction, and ¼ inch to 1 inch in wire braid construction, MegaTuff™ hose not only saves on the cost of frequent hose replacement, but also on the cost of the downtime and lost production that results, as well as on the
cost of spring guards and nylon sleeving that lesser hoses require for protection.
MegaTuff Hose is part of the Gates MegaSys™ System, which offers hose and couplings with superior performance at a competitive price. From hose for high pressure applications, to low-pressure and
return-line hose, and couplings for leakfree connections, the MegaSys System means you can always find a Gates hose or coupling that's up to the job, however tough the job might be.
For more information contact your local ERIKS Service Centre on 0845 006 6000.
Related Posts: