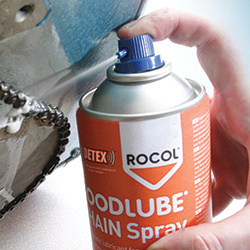 Coca-Cola has some. So does KFC. Barr's Irn Bru and Worcestershire Sauce both contain ingredients they don't want us to know about. But what if your food or drink product has a secret ingredient even you don't know about – until it's too late?
Those famous products' recipes have ingredients which are deliberately added to enhance the flavour. And of course, those ingredients have all been thoroughly and carefully checked and approved for complete consumer safety. But accidental contaminants in your product are another matter. They're potential "ingredients" of food and drink products that no producer wants in their recipe.
That means you have to eliminate the potential for contaminants to enter factory processes at any stage, including during plant and equipment maintenance.

Maintenance at the required intervals is essential, but using the correct food-grade lubricants is essential too. So choosing the FOODLUBE® range of high-performance lubricants from ROCOL® is your safest option.

High-level hygiene
ROCOL has been developing and manufacturing chemicals and lubricants for industry – including the food, drink and clean industries – since even before Coca-Cola was available in the UK.

Now with 135 years' experience, the company still leads the market. And it's continually developing innovative products which not only maximise productivity for customers, but also help optimise customers' long-term profitability, and protect their reputations.

FOODLUBE is the ROCOL lubricants range that's been specifically developed to meet the complex demands of the food and drink industry. All FOODLUBE food-grade lubricants are NSF® H1 registered – meaning that their formulations meet the required hygiene requirements for incidental contact with food, cosmetics and animal feed.

ROCOL is also one of the few companies worldwide to achieve ISO 21469:2006 certification. This is the globally recognised hygiene certification, which helps food and drink processors meet the compliance requirements of their customers. When auditors undertake a retailer, EFSIS or BRC audit, the ISO 21469 certification provides credible assurance that all ROCOL products are hygienically and safely formulated, manufactured and supplied.

Food safety inside and out
ROCOL FOODLUBE's NSF registration and ISO 21469 certification tell you everything you need to know about the food safety of the lubricants inside every can and aerosol cartridge. But what about the safety of the packaging itself?

Foreign object contamination is another very real risk for food and drink processors, and one which ROCOL have addressed with the introduction of DETEX® X-ray and metal- detectable plastic components.

These award-winning plastic actuators and caps are now used on all aerosol cans and grease cartridges for FOODLUBE food-grade lubricants. So unlike traditional aerosol packaging, any FOODLUBE product caps and actuators which become loose in food and drink processing areas can be quickly and easily detected, using standard X-ray and metal detection equipment.

However, the food safety precautions don't end there.

The patented DETEX plastic components are themselves manufactured from safe materials, which are deemed acceptable by the US FDA for use in food processing plants. So you can have three times the peace of mind when you use FOODLUBE products. Firstly, you know the lubricants are certified safe. Secondly, you know the packaging components are too. And thirdly, the components are easily detectable as foreign objects.

Lubrication counts too
Though food safety is critical, it's not the first reason for choosing a lubricant. Obviously, that reason is effective lubrication.

Fortunately, the food safety qualities of ROCOL FOODLUBE don't compromise its lubrication performance.

FOODLUBE lubricants consist of the finest food-grade base oils, including synthetics, renewable oils and silicones. Formulated with the most effective antioxidants and additives, they specifically address the performance and application needs of today's food and drink industries. Combined with DETEX technology, FOODLUBE is a major development in helping food and drink processors avoid costly downtime, product recalls and the risk of reputational damage.

So the recipe for successful maintenance of your production and processing equipment, and for protecting your brand, is no secret. It's equal measures of ROCOL, FOODLUBE, and DETEX.

Want to know more? Contact your local service centre on 0845 006 600. Or if you're attending the ERIKS Innovation Excellence event at the MTC, Coventry, 3rd October 2017, visit the Rocol Stand.
Related Posts