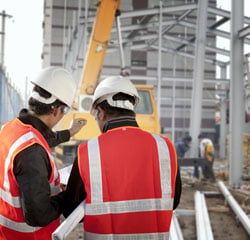 Two years on from the last amendments to the Construction Products Directive (CPD), ERIKS takes a look at how the changes have affected the marketplace and the opportunities it has presented to increase safety. Lewis Fisher, Operations Manager at ERIKS UK delves into the topic further.
The CPD was established to provide a common framework across the European Union. Its importance is stressed by the fact that fabricating steel components is deemed "safety critical". It is now a legal requirement to adhere to the requirements of BS EN 1090 with appropriate CE markings.
BS EN1090 covers three areas; EN 1090-1 (assessing and verifying conformity), EN 1090-2 (manufacture and assembly of steel structures) and EN 1090-3 (manufacture and assembly of aluminium structure). The standard not only affects civil engineers and construction engineers, but also quality control personnel and procurement teams.
Help Ease the Pain
Nobody can deny the significance of receiving a CE marking. In light of this, manufacturing under a robust Factory Production Control (FPC) system which meets the elements of ISO 9001 needs to be proved and independently assessed by an accredited body. This therefore, shows an element of compliance with the requirements of BS EN 1090.
While manufactures need to ensure they are compliant with current ISO 9001 standards, they should also see this as a great opportunity. By implementing an effective quality management system businesses can help make efficient use of resources, deliver enhanced customer satisfaction and in many cases a prerequisite to be considered for tender opportunities.
Beyond Safety
Safety is the driving force behind getting a BS EN 1090 certification. But implementing a quality management system is not just something worth doing because it is obligatory. Change can be disruptive, can feel uncomfortable and will cost money!
There are numerous up sides to being certified including:
Continue selling products within the EU

Better operational efficiency

Effective resource management
Your Steps to Success
To gain certification and be awarded a CE mark, you are required to undertake an initial type-testing of your products and factory production control.
The message of BS EN 1090 is clear and ERIKS Engineering and Sites Services workshop in Greenford can help your business ensure full traceability, compliance and verification. ERIKS Greenford can guarantee the appropriate controls are in place at every stage of the manufacturing process. This will include:
Material certification of analysis, testing and storage

Staff training, testing and qualification

Equipment calibration

Consumable certification and control

Quality control and testing of product

Control of records and documents, including control off issue

Product identification and marking

Internal audit

Control of non-conforming product
Please contact ERIKS UK on 020 8813 1111 to find out how we can help you.
Related Posts: