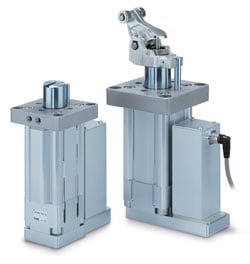 To ensure market competitiveness most manufacturers, including supply chain experts, are recognising that improved productivity is often linked with increasing the levels of automation in their manufacturing facilities.
However, it's not quite this simple
For example, when adding more automation in a production and handling system the current "holy grail" is the need to consider future flexibility - making even individual component level selection a critical factor.
Take a conveyor system
Often referred to as a company's lifeline, a conveyor system effectively moves products during manufacturing through to final completion and despatch. Obviously when designing a conveyor system you need to have a clear understanding of how it will be used and the required operations such as transportation, accumulation and sorting, material sizes, weights, shapes including loading and pickup points.
Designed correctly from day one, a conveyor will last a considerable time but care needs to be taken especially when considering the running costs. Obviously, the more a conveyor costs to run, the longer it will take to get your return on investment.
So now you have three things to consider: Cost of original design and build, operational running costs – energy consumption/maintenance, fl exibility – when you need to adapt or alter handling methods due to changing demands.
One of the key components on a conveyor are stopper cylinders. Used to stop pallets or boxes, these cylinders are designed to withstand side loading rather than regular cylinders and are available in various sizes and strokes depending on the materials and weights involved.
SMC, the leading experts in automation, has a comprehensive range of high quality, long lasting, heavy duty pneumatic stopper cylinders (Series RSH)- and these are extensively used throughout the world.
But what can you do if you haven't got a supply of compressed air?
Help is now at hand
SMC has recently launched a brand new range of electric stopper cylinders (Series LEBH-X3 and Series LEBQ40-X31) that are suitable for a vast range of stopper applications with options that can handle transferred weights of up to 800kgs.
Simple to use, with no programming required, these electric cylinders just require one digital output for on – off control.
According to SMC's UK Marketing Manager Bob Hitner, "these new electric stopper cylinders have been developed in response to changing market conditions and they are ideal when you don't have a compressor or compressed air supply and you want to use a conveyor line. Simply plug the dual pinned M12 connector into an ASI unit or Plc and you're off and, with only 5 watt power consumption, they are super economic to run".
The smallest in the range is the series LEBQ40-X31. Designed for lighter transfer weight up to 70 kgs with maximum object speeds of 30m/min, these cylinders are both easy to maintain being adjustment free although the drag value is still changeable.
For those heavyweight stopper requirements SMC's series LEBH-X3 is the perfect selection. Available in three model size options these stoppers can handle transferred objects up to 400kgs, 520kgs and 800kgs depending on the selected model with maximum object transfer speeds of 40m/min.
Series LEBH-X3 has been designed with an adjustable shock absorber plus soft stop capabilities and the drag value can be quickly changed using a simple dial. Sharing the same roller material options – resin or carbon steel – as its smaller model, in the case of the LEBH-3 the roller direction can be changed in 90 degree steps to ensure maximum flexibility.
Operation is single acting spring extend, so the rest position of the stopper is extended to stop the load. In the case of power loss or control failure the units will extend to stop loads safely preventing accumulation or overload at the end of the conveyor. Autoswitches can also be fi tted for additional verification of stopper cylinder position.
So why not consider going electric when designing or building your next material handling conveyor system?
For more information, contact your local ERIKS Service Centre to speak to your local Fluid Power Application Engineer.
Related Posts