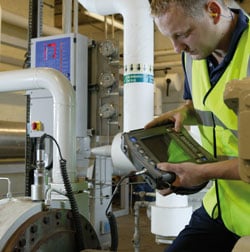 Be prepared, expect the unexpected, and you'll never be caught out. We don't give out badges for it, but that's exactly the thinking behind Condition Monitoring.

Carried out effectively, it can tell you not only the current condition of your machines, but also what problems to be prepared for in the future. And ERIKS' Condition Monitoring goes one step further – not just diagnosing problems and highlighting potential problems, but prescribing the cure too.

This means you can avoid unexpected downtime and repairs, and the costly implications of a minor problem developing into a catastrophic failure.
Spot the difference
Condition Monitoring means collecting, storing, comparing and analysing key variables from your machines. This data can be collected through vibro-acoustic monitoring, oil analysis or thermography. ERIKS is currently working closely with Cranfield University in the development of new analytical techniques in vibro-acoustics.
However the data is gathered, it's when differences from the norm are detected that the real expertise comes into play.
Expert Condition Monitoring technicians can analyse the data, but experienced application engineers and product and service managers will find the right solution for the particular problem and application.
Spot the experts
ERIKS' Condition Monitoring technicians work closely with colleagues in other disciplines, to provide a complete package from problem-spotting to treatment.
ERIKS' Condition Monitoring experts have a wealth of experience, not only in monitoring electromechanical machines and rotating equipment, but also in conducting heat energy and air leak surveys. And in all cases they ensure that you're not simply provided with a report, but a prescription.
Tools at their fingertips include high-end equipment for protecting your machines, through:
P

eriodic portable monitoring

PLC/SCADA or internet linking

S

tand-alone protection

P

ermanent data collection and

E

mail, text and digital output alerts.
Choose your protection
Choose ERIKS Condition Monitoring and you have a choice of two monitoring systems – both handling 4, 6 or 8 channels/sensors as standard – for two different levels of care:
Asset Guard
Time-based readings

Warning if pre-set parameter is exceeded

Text or email warnings
Asset Guard Plus with ERIKS Know-How Cloud
Continual readings

Warning of intermittent incidents

Trend identification

Text or email warnings

Safe shut-down

Asset performance data

Diagnostic and prognostic evaluation (when linked to the ERIKS Know-How

Cloud)
Whichever system is right for your requirements now, it can be extended at a later date if your needs change.
Installation is simple, with no IT expertise or programming required, whether the system is installed panel mounted or in a rugged IP-rated casing, and whether you choose the standalone, mobile, wireless or wired option. The wired system integrates with your SCADA system using the standard MODBUS protocol. There are no firewall issues, and a VPN or static IP is not required.
You can find out more about ERIKS Asset Guard here
First steps
Adopting Condition Monitoring as a practice in your plant is a significant change in the way you currently run your MRO. It will definitely have a significant impact on your downtime and bottom line, but also on the way you work.
To help you learn more about Condition Monitoring, and take the first simple steps to its adoption, ERIKS is running seminars around the country throughout 2015, entitled "Beginning the Journey to Predictive Maintenance: first steps."
If you would like to attend this useful and informative 2-3 hour event, simply contact your usual ERIKS Service Centre for details of your nearest seminar. Meanwhile, you can read more about Condition Monitoring and reducing your risk of breakdown here.
Click on the image to download
Related Links: