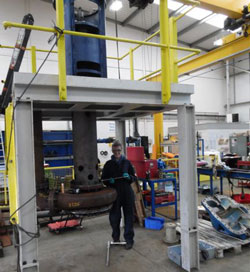 National Women in Engineering Day was set up by the Women's Engineering Society (WES) to celebrate its 95th anniversary. The aim is to celebrate the work that women do in engineering, and to showcase the great engineering careers that are available, particulary when the engineering skills shortage is such a huge issue.
By encouraging more women into engineering careers we will not only be increasing diversity and inclusion – a business imperative – but enabling us to fill the substantial future job opportunities that have been predicted in this sector. So with this in mind, and today being National Women in Engineering Day we though it would be great to speak to two ladies within ERIKS to gain an insight in to their daily routines and why engineering is this career for them.
Meet Tracey Fielding, Service Centre Manager at ERIKS Electro Mechanical Services, Southampton
"My day starts at 5.30am (I am a working mother of 7!). My oldest child is 28 and the youngest is 13. I have a 46 mile commute each way to the branch where I am the Service Centre Manager of the ERIKS Southampton Repair Workshop. My first job of the day is a strong coffee!
I start my day with a walk around the workshop to check on work in progress with the Workshop Supervisor, where we plan the jobs of the day and schedule the relevant Engineers onto each job. We look at the general state of the workshop identifying areas that need tidying. I make a point of having a chat with each of the Engineers and find out where they are up to with the jobs they had been progressing the day before. They are then advised on materials expected in that day and of any urgent jobs that may have come into the workshop outside of normal business hours. If I am aware of any repairs that require collection or delivery, I check that it has been actioned.
Once I have finished I go into the office to update the progress boards. The timesheets are then brought into me and I check them over and, if they are correct, sign them off.
No two days are ever the same. It can be a mixture of HR, visits from customers, preparation of reports, chasing overdue materials, site visits, quotation preparation, interviews, commercial audits, Health & Safety Audits and meetings with customers on and off site.
Why Engineering?
I did not set out for a career in Engineering the types of jobs that I have had took me into it. I started my path into it when I took on a role as the Sales Manager of a large Dutch company supplying piping materials into petro chemical sites around the world. I enjoyed the challenge of learning new products and the attention to detail that was required.
Engineering is a largely male dominated profession so at times it has been difficult. I have several times been told "Be careful you will get dirty" or "Mind you don't break a nail". I've given up on dresses and shoes (and I love heels) my trusty old steel capped boots are now my most worn item of footwear! It has at times been challenging to gain the respect of men in this profession but I think that is down to a lack of women within the industry
Thinking of being an engineer?
I'm not a trained engineer, but I enjoy working within this industry because it is a great feeling when a situation that started out as a failure usually a critical situation, is resolved and a stressed customer becomes a happy customer.
Meet Olivia Markham, Trainee Pump Engineer at ERIKS Electro Mechanical Services, Grimsby
Briefly tell me about your average work day – what does it consist of? What roles and responsibilities?
I shadow guys on Pump Team (as part of my training) under the supervision of the Works Supervisor. I work under the guidance of others within the workshop and learn new skills from them. I get my own pumps to work on which I now feel comfortable and confident to be able to work on alone. I was thrilled recently when the office received an email of praise from one of our large Customers regarding one of the pumps I'd finished. I was praised for my work on this within the ERIKS eNewsletter.
What interested you in a career in Engineering?
I had had an interest in engineering from a young age. I wasn't happy with my first choice of a college course (Beauty, Hair & Make up) - I felt it did not feed my drive and eagerness to learn, so I soon realised it wasn't the career for me and I changed to engineering. I have never looked back - I absolutely love every second of it!
What challenges have you faced and how have you overcome them?
I think being a female in engineering has been my biggest challenge by far! When I first started my college course it was struggle to get people to take me seriously (particularly the other learners in my group), so I had to prove myself even more than others and eventually I was taken seriously and was looked upon for help by others in my group. I was the first in my class to finish my course and I am hopeful to gain distinctions in my marks, which I believe has proven my worth within the industry.
Also I find when people ask what I do peoples responses could be laughter and disbelief (I am small and blonde woman, who also loves her make-up, hair and fashion!). I think my new post at ERIKS proves that I am here to be taken seriously and I am certainly making my mark here and gaining respect from the guys in the workshop and the staff in the office.
What advice would you give young women considering a career in Engineering?
I would say go for it! It is the best thing I ever did. I would also say that you need to be prepared to take some negative comments and criticism from people, but don't be put off. Use it as steps to show them what you're made of and that you are serious about where you want to get to……the top of your game.
Click below to download a PDF of the interviews.