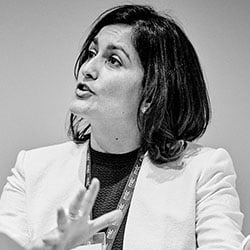 It was Mark Zuckerberg of Facebook who encapsulated his business philosophy as "Move fast and break things." While the same way of operating wouldn't get you far in manufacturing, the underlying principle of being disruptive to open up new opportunities and new revenue streams still applies.
The philosophy is discussed in the White Paper which Dr. Lina Huertas of the Manufacturing Technology Centre will be exploring at the forthcoming ERIKS Innovation Excellence Conference.
Dr. Huertas' paper explains that the growth in digital technologies has created a similarly huge growth in data, which has become a valuable asset to manufacturers. Whether it's historical or real-time data providing knowledge and information, or data used to predict the future, it can have a major impact within manufacturing, on:
Product quality – helping to achieve right-first-time, and eliminating inspection

Machine health – optimising machine maintenance, repair and ownership strategies

Flexible systems – enabling product variance with reduced change-over time.
If machine manufacturers take proper advantage of data to drive machine health, they will be able to disrupt the value networks and create lucrative new revenue streams in a way which Dr. Huertas describes as simply "game changing".
Revenue for Life
Machine manufacturers' traditional business model is based on machines as assets: sell machines to customers and generate a single instance of revenue. The only way to create a constant revenue stream from this approach is by utilising an effective salesforce to continually generate new sales.
It's a tough way to work, that's getting tougher as competition grows from manufacturers in emerging markets.
Dr. Huertas argues that data can help machine manufacturers to disrupt this market, by giving them the information they need to offer a wider range of services, which will more easily generate continuous revenue. By providing maintenance and repair, self-healing and replacement services for the original machines, manufacturers can use a single asset to provide revenue far beyond the initial purchase.
In fact, they could even forgo the revenue from the asset sale, because retaining ownership will ensure maximum – and ideally exclusive – data access.
Building New Models
Changing to this new way of thinking about assets, customers and revenue will require manufacturers to think about not just building machines but building new models of working, encompassing:
new business models for customers, based on their specific requirements and a deep understanding of the customer base
Partnership and collaboration rather than a traditional supplier/customer relationship

New internal capabilities and skills to enable them to offer customers new services

New tools and infrastructure – from Big Data platforms to high-performance computing – to support new data-driven services.

Smarter machines – integrating sensors, new instrumentation and connectivity – which can provide the data that's needed and can respond to the new services.
Move Fast and Join Us
A disruptive business model like the one outlined above can deliver a huge competitive advantage to early adopters. By moving from becoming just a manufacturer and seller of machines to a provider of digital services, you can create a more stable, more reliable and longer-lasting revenue stream.
You can find out much more about Industry 4.0, Big Data and Disruption if you join ERIKS at the Innovation Excellence Conference on 3rd October, at The Manufacturing Technology Centre, Coventry. Attendance is by invitation only, so please contact your usual Key Account Salesperson for your invitation. And to find out more about Innovation Excellence, why not join the ERIKS LinkedIn Innovation Excellence Group?