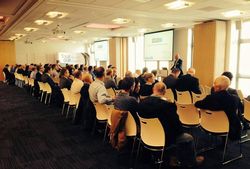 This year's Motor Driven Systems Conference attracted the attention of many delegates, interested in broadening their knowledge for generating energy savings from motor driven apparatus – pumps, fans and compressors.
The event was held in the impressive Advanced Manufacturing Research Park in Rotherham, property of the University in Sheffield.
The roadshow consisted of 9 inspirational presentations, given by industry experts from market leading companies including GAMBICA, ND Metering Solutions, BPMA, BOGE, IHS Research, Flakt Woods and the event sponsors – ERIKS and WEG Electric Motors.
The speeches touched on important issues such as recent changes in legislation and standards such as ISO 50001, as well as the newest trends and innovations in the industry like the ERIKS award-winning Motor Total Cost of Ownership Calculator.
Several of the speakers emphasised on the importance of taking the lifetime cost of energy-efficient equipment into consideration instead of focusing only on purchasing cost. Andrew Evans from GAMBICA expressed the benefits of energy-efficient machines in the long run with the famous Henry Ford quote:
"If you need a machine and don't buy it, then you will ultimately find that you have paid for it and don't have it." Henry Ford
A Full Experience…
ERIKS and WEG ensured that the attendees can get the most of the Motor Driven Systems conference by setting up a small display area where technical experts from the two companies showcased the latest product technology and services on offer.
ERIKS had three stands, focused on motors, condition monitoring and pumps, and thehe delegates had the opportunity to see how the ERIKS Motor TCO calculator works and to learn more about the innovative optical gas imaging camera which ERIKS' condition monitoring experts are now using on various applications.
Networking
One of the best aspects of the MDS Conference was networking – a special area, dedicated to refreshments and socializing was available where delegates had the opportunity make connections and share experience with other industry professionals.
We trust that everyone who attended found the event useful and interesting. We would like to provide you with the opportunity to download the two ERIKS' speakers presentations if you missed the event or you would like to review the content once again! Simply click on the images below to download the ERIKS presentations:
The Life of Pumps Energy for Life
Related Posts: