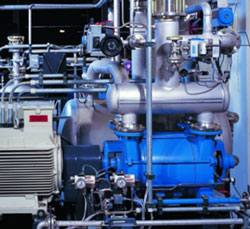 Pumps are the largest users of motive power in industry. But they also waste 50% of the energy they consume. That's something which Mark Marsh, Pumps Business Development Manager, ERIKS UK, believes can change. He outlined how, in his presentation at the ERIKS and Festo Energy Conservation Operation (ECO) Event.
With 87% of the cost of pumps represented by running costs, achieving energy savings can represent a sizeable cost reduction. In fact, taking the right steps to increase pump efficiency can achieve energy savings of 10-15% on a pump, or 30-40% across an entire pump system.
Theory versus practice
Every pump has a theoretical output, which almost invariably differs from the actual output due to a number of factors, including:
Manufacturers usually add a safety margin to a pump's performance, which means the pump operator has to throttle it back to achieve the correct duty point. So the pump is not operating at its most efficient.
Changes and modifications to pipework within a pump system can affect pressure, flow and pump efficiency.
Pumps wear in service – often through corrosion and erosion from contact with the pumped product. This reduces their efficiency – but since a low-efficiency pump can still perform without any obvious problems, the efficiency losses may go unnoticed.
When these issues cause a pump to move away from its Best Efficiency Point (BEP), it can lead to higher operating temperatures, cavitation and other problems, which in turn can affect bearings and seals, shorten the pump's life, and cause motor overload.
But despite what some people believe, maximum efficiency is not achieved by adding more pumps to a system. In fact, there is a decreasing gain in head and flow with each additional pump. However, multiple pump systems offer the greatest opportunity for energy savings, particularly if the system requirements fluctuate – as in washdown sets, for example.
Energy-saving remedies
Another potential energy-saving option which many consider is a Variable Speed Drive. This can have a positive effect in a closed loop system, but in other systems other options – such as trimming the pump impeller – can be more cost-effective.
A supplier partner with know-how can also reverse engineer or repair impellers which have become inefficient, or offer coatings which improve efficiency by reducing corrosion and friction – helping to return the pump to its BEP.
Maintenance can also play an important role in keeping a pump energy-efficient. Maintaining clearances on wear rings between suction ports, for example, will help to keep a pump operating efficiently.
And last but not least, regular pump health checks will allow a pumping cost by product flow calculation, which will determine the point at which the cost of pump refurbishment will be fully financed by the energy saved. Not all pumps are suitable for this kind of monitoring and maintenance regime, but if a pump is over 37kW and operates for eight or more hours a day, it is highly likely that the regime can be financed by the energy savings achieved.
Now that Energy Audits have been made compulsory by the EU for medium and large businesses, ERIKS can help you meet the demands of legislation, and achieve significant energy and cost savings, through auditing by a Certified Pump System Auditor.
To find out more, download the ERIKS Pumps presentation from the ECO Event below, or contact your local ERIKS Service Centre.
Related Posts: