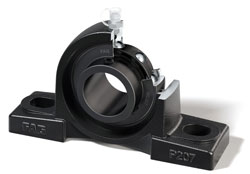 In food and beverage processing, production is typically based on highly automated, fast moving processes and systems, where every second of production counts.
In these operating environments, the cost of production downtime can equate to hundreds of thousands of pounds per day. Total maintenance costs for a typical food or beverage manufacturer are around 15-20% of total costs.
Quiet running, energy efficient and reliable mechanical components such as bearings that offer longer operating life times, play an important role in the Total Cost of Ownership of critical plant and machinery.
Bearings for Every Application
For food, beverage and packaging machine applications, Schaeffler offers a wide range of robust, reliable bearings, which can all be corrosion protected, sealed and lubricated for life for continuous operation.
The Schaeffler bearing range includes deep groove ball bearings, radial insert ball bearings, plain bearings, housed units, track rollers, slewing rings and linear guidance systems. All products are designed to fulfil several key principles, including compact design, maintenance-free operation, modular components and reliable, long operating life.
Housed Bearing Units
Housed bearing units are found in many food and beverage processing lines, from materials handling systems to conveyor belt drives, pumps and fans. Schaeffler's range of housed bearings now includes units manufactured to Japanese Industrial Standards (JIS).In terms of their housing dimensions, borehole mounting and lubrication, the housing units are direct replacements for Japanese-manufactured units.
The FAG Black Series of radial insert ball bearings and housing units are robust, cost effective, ready-to-fit machine elements that provide simplified mounting, smooth running and high reliability.
Long Maintenance Intervals
An innovative seal design and special coating make this range very economical for users. The housing is made from flake graphite cast iron and is coated with 2-pack paint that inhibits the formation of rust. A special one-piece seal with moulded lip and adjacent flinger shield protects against the ingress of contamination.
Relubrication is easy as the seal is firmly staked in the outer ring, and there is no risk of the seal being pushed out of the bearing by excessive amounts of grease. Contrary to many other radial insert ball bearings, this lip seal does not contain any harmful DBP plasticisers.
Black Series radial insert ball bearings with a spherical outer ring are based on deep groove ball bearings and are manufactured to JIS B 1558. The outer rings, inner rings and shields are coated with Durotect® B – a thin matt black, mixed iron oxide layer developed by Schaeffler that provides high corrosion resistance.
The units are available as plummer block housed units, flanged housed units or take-up housed units. Schaeffler also offers housed bearing units with corrosion-resistant (stainless) sheet steel or plastic (glass fibre reinforced PBT) housings.

Grease Selection
Selecting the correct lubricant is a critical factor in ensuring the reliability and optimum operating life of a rolling bearing. Failure statistics show that a significant proportion of premature rolling bearing failures are directly or indirectly related to the lubricant used.
For food and beverage processing companies, legal and environmental factors must be considered when selecting a suitable grease. A worldwide standard that can be used is approved in accordance with the NSF (National Sanitary Foundation) H1 or H2.
A lubricant with the code H1 (food-grade lubricant) may be used where occasional, technically unavoidable contact with foodstuffs cannot be eliminated.
This means that the grease must be non-toxic, rapidly broken down by the organism and neutral in terms of both odour and taste.
H2 lubricants are intended for general use within the food processing industry where no contact with foodstuffs occurs.
Schaeffler's ARCANOL range of lubricants includes 17 different greases, each one developed by Schaeffler application engineers.These greases therefore provide specific lubrication properties for almost every type of industrial application, including food, beverage and packaging applications.
Multi-Point Lubricators
For food or beverage processing lines where machine uptime is critical, multi-point lubrication systems can be installed, which automatically supply lubricant to rolling bearings without the need for manual intervention.
FAG CONCEPT8, for example, is a cost effective multi-point lubricator from Schaeffler that ensures a constant, optimum supply of grease to rolling bearings. The system is suitable for a wide range of industrial applications, including pumps, fans, compressors, gearboxes and electric motors.
FAG CONCEPT8 provides up to eight separate lubrication points for dispensing precisely metered quantities of lubricant to rolling bearings. Unlike other multi-point lubricators, FAG CONCEPT8 enables users to individually control each pump in order to optimise cycle times and volumes of dispensed lubricant. Rather than having to purchase multiple single point lubricators to cope with different bearing lubrication requirements, users can now buy one FAG CONCEPT8.

Related Posts: