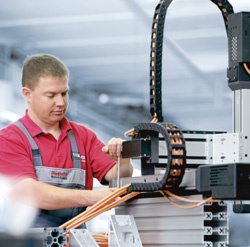 Modern production environments are defined by short product cycles and the need for flexible, lean production. But it is often the case that even small changes to a product or process can mean big change for the materials handling element. Paul Streatfield, an expert in materials handling at Bosch Rexroth, outlines the problems and looks at potential solutions.
The modern factory often appears to be in a constant state of restless rapid change. Short production life cycles mean that new products need to be introduced quickly and easily. There is constant pressure to further automate in order to reduce costs and increase efficiency.
However, all-too-often the materials handling element of production is the most resistant to change. For example, the simple change in the size of a box or the position of a component that needs to be picked up by a gripper, can mean a complete software re-programme which can be both time consuming and costly.
Similarly, the integration of a new automation system to take out a manual handling element of production encompasses tasks that appear like a simple step in reality, feel like a major undertaking.
One of the key issues is reprogramming which is no simple task. This is particularly true if the current materials handling solution is a PLC programme controlling the pick and place movements with pure sequencing and logic which, under the new system, requires motion control.
The step from PLC and logic into the motion control world is a big one for PLC programmers and many are reluctant to try and learn the new skills which will bridge the gap. The only alternative is to go to a systems integrator which increases the size of the task and the costs still further.
However, programming is only one part of the problem. The entire process of planning, assembly, commissioning and start-up of a new or merely reconfigured materials handling system, can be a major issue. Naturally many production engineers recognise the need for increased efficiency but don't want to stray too far from the current solution.
Introducing the Rexroth EasyHandling System
The good news is that there are a number of modular materials handling solutions in the UK market that can facilitate the easy planning of a new system and cut installation times. Many are capable of being scaled up or down depending on production requirements and, crucially can be easily programmed.
The Rexroth EasyHandling system, for example, will deliver to the customer a complete drive and control system in one kit, with all the mechanical and electrical elements included along with the engineering software. This kit crucially includes a ready-to-go programming interface, pre-written screens and a procedural programming language which can be set-up in as little as one single afternoon.
A key component is a simple HMI screen to enable the easy integration of pre-configured motion logic, making use of pre-defined functions, speeding up the configuration process and eliminating the need for extensive programming. The controller manages coordinated point-to-point motion and smoothing, as well as optimising handling paths to avoid unnecessary movement or the potential for collisions.
The number of commands that need to be programmed are minimal and there are a wide range of functions, from commands for single and multi-axis, through to event-based cancelling of movement and pre-defined travelling speeds, along with acceleration and conditional jumps.
Significantly Simpler
All of this makes programming significantly easier. For example, one application I was recently involved with required 54 combinations of carton positioning with all the positions dynamically changing based on the carton size. The individual cartons were removed from a conveyor and placed on one of six separate stations with variations needing to be programmed including carton height on the Z-axis.
It was also important that the carton was rotated 180 degrees to ensure the barcode label was always projected to the outer surface of the pallet matrix, and that the gripper position and carton were matched at the carton pick position.
All in all a complex materials handling solution was completely installed in less than six days.
Modular systems with the ability to easily programme the motion control element can offer enormous benefits to end users of materials handling systems. At Bosch Rexroth, our estimation is that circa 80% of the engineering effort associated with a new or expanded materials handling system can be avoided using a modular 'kit' system. All of which makes the process of changing a materials handling application much less time-consuming than in the past.
Related Posts: