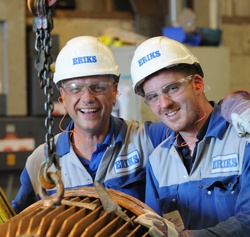 Five in every hundred workers were affected by work-related illnesses in the waste industry in 2014/15. Five thousand were injured at work. 16,000-145,000 working days were lost on average in 2009/10 to 2014/15. And fines across the waste and recycling industry totalled over £2,063,000.* Ignoring health and safety is clearly not a safe thing to do.
It's very easy for an employee to forget that their safety gloves won't last forever or to think that standing on a concrete floor won't do any harm. But in the waste sector, it's not easy to overlook a fatal injury rate that's up to twenty times the all-industry standard, and an injury rate that's around double.
Health and safety should never be about blame, but should be about responsibility. And with so many rules and regulations laid down for the waste and recycling industry, the responsibility can be onerous.
So what you need is a way to make health and safety an integral – and easy – part of everyone's working day.
Keeping your reputation safe
Health and safety can't be ignored, or forgotten, or treated as a one-off. They're essential, and ongoing.
There are not only physical repercussions for employees and financial ones for your business from a health and safety incident. There's also damage to your company's reputation to consider. And it's not just what your customers think.
Recruiting and training new employees is a significant cost in an industry where staff retention is difficult. So how much harder and more costly will it be if your business is known to have a poor health and safety record? Improving health and safety can reduce staff turnover, which in turn cuts your recruitment costs.
So the first thing to do is make it harder to ignore health and safety than it is to follow the rules.
Making PPE safer
The latest EU PPE regulation – introduced in April 2016 – has stronger rules covering PPE sold in the EU.
The easiest way to ensure that all the PPE products you buy meet the new criteria is to buy only from a single, trusted supplier such as ERIKS, who will only source PPE from manufacturers who are fully compliant.
Not just for coffee
PPE only works when it's used or worn. So the key is to make that easy.
Install a PPE vending solution lineside or right outside a staff restroom where it has to be walked past on every break – and suddenly it's as easy to be protected as it is to get a cup of coffee from a vending machine.
Whether your employees need masks for protection against odours, gloves and goggles for protection against chemical splashes, or boots for protection against heavy dropped waste, a vending machine can issue it.
Don't stand for it
Another health and safety issue which is often overlooked because it is, literally, under your feet.
If your employees stand and walk on unforgiving concrete while they work, the cumulative effect can be fatigue and injury, leading to reduced productivity and absenteeism.
However, there is a simple answer, Wearwell matting provides a more comfortable and safer (non-slip) surface to stand on, which has been proven to reduce injury and absenteeism, and increase productivity.
Save your skin
A health and safety issue doesn't have to be dramatic, or bloody, or even all that obvious. It can just be insidious, unsightly, and ultimately very costly.
Occupational skin disease, for example, costs €600m a year across the EU and results in 3 million lost working days a year.
Yet simply positioning protective skin cream dispensers – like those available from Deb – where they're hard to ignore, backed up with some initial education on skincare, can put health and safety literally in the hands of your employees.
Just as with the PPE vending and the Wearwell matting, you've discharged your duty of care, and made it easy to be safe.
When being proactive about safety in this way you can save your employees from injury or illness, that's reason enough to do it. But when it also saves money by reducing staff turnover, and helps you meet safety and employee retention KPIs – which in turn helps you optimize productivity – then any short-term cost is soon, and safely , outweighed.
Related Posts