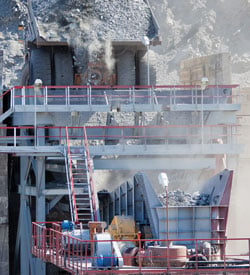 If you find yourself replacing your bearing housings as often as you replace your bearings, you have a crisis on your hands. The usual ratio of housing to bearing swaps is 1:3, so replacing housings more frequently is a sure sign there's something wrong.
In quarrying and mining applications in particular, bearings have a hard life. Conveyors and crushers often experience high levels of shock loads and, as the name suggests, vibration screens vibrate. So it's essential to choose a bearing and housing which can take the punishment without failing prematurely.
Identify the cause of the bearing failure, and choose the most appropriate solution for the application, and you can extend bearing life, reduce downtime, and cut the cost of replacement parts and lost production.
When the going gets tough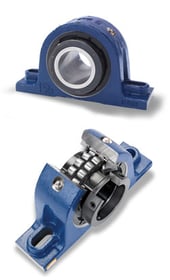 Identifying the cause of bearing or housing failure can be tough – not least because after a catastrophic failure there's sometimes not much bearing left to analyse.
However, an engineer with expert, specialist knowledge – like one from ERIKS – will be looking for tell-tale signs such as brinelling (denting of the raceway), which indicates that shock loading has caused the failure.
And if the housing has failed, a bearing with a tough steel cage is the obvious solution.
Timken Spherical Roller Bearing Solid-Block Housed Units, for example, have a solid block made from high tensile steel tough enough to survive even massive shock loads. The ends of the units' feet on the pillow blocks are machined to allow a tighter fit of the keeper plates to the housing, for one-time shaft alignment. And all piloted flange units have withdrawal holes, so they can be removed without breaking the housings.
The strength of the Spherical Roller Bearing Solid-Block Housed Units means that even fitting them upside down won't shorten their service life. And fitting them in any position is exceptionally easy, with misaligned seals ensuring there's no gap between bearing and shaft where dust, sand, dirt or other contamination can find a way in.
The advantages are obvious. For example, when a Timken customer switched to Spherical Roller Bearing Solid-Block Housed Units, the unit life increased from three-to-four months to more than two years, and downtime and maintenance costs decreased in proportion.
Keep production rolling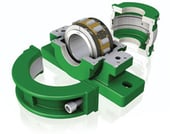 In many applications, installation, routine maintenance and replacement are difficult, demanding, and result in too much costly downtime. In these cases, a Split Roller Bearing (SRB) is a cost-effective alternative.
SRBs have a "split to the shaft" design which means they can be installed, maintained and replaced without having to lift the shaft or remove it from the drive.
This can cut production losses from downtime by as much as 90%.
Roller bearings also offer far more surface area than traditional ball bearings, giving them a greater capacity to absorb shock loads, and four to five times more load carrying capacity than spherical bearings.
A valuable SRB option for the kind of conditions encountered in mining and quarrying is a precision machined brass cage. Brass is a flexible yet high strength material, resistant to shock loads. The alloy's smoother finish compared to steel, and the cage's rounded edges, mean it maintains the lubricant film between the roller and the raceway, where a steel cage may scrape it off. And the brass cage is pocketed to the shape of the roller – preventing the roller from skewing, which is a common cause of premature bearing failure.
While some people resist changing from a traditional bearing to an SRB because of concerns about re-engineering costs, Revolvo SRBs from Timken allow for a simple drop-in swap of the plummer block unit, with no re-engineering required.
A split decision
So the choice is yours: the sheer strength of the Spherical Roller Bearing Solid-Block Housed Unit, or the ease of installation of the Split Roller Bearing?
With a large range of sizes available in both bearing ranges, there's no need for compromise. And as a Timken Authorised Distributor, ERIKS can help you to find the optimum, most cost-effective solution for your application, whatever that may be.
To find out more, speak to your usual ERIKS representative or contact your local ERIKS Service Centre.
Related Posts: