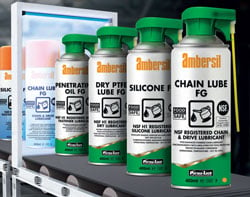 Ambersil's new Food Processing Safe® PERMA-LOCK® system is designed to minimise risk when using maintenance chemicals.
The PERMA-LOCK® dual position spray system does away with the cap entirely, and locks-in the straw to the button. So with no detachable parts, there's nothing that can fall off and contaminate the processing area.
In all other aerosol maintenance sprays components can become detached – leading to food contamination, costly batch quarantine or even a market recall. By eliminating the risk, PERMA-LOCK® also reduces the need for expensive x-ray or metal detection equipment.
Featuring a dual spray – traditional and precision application – the packaging also includes a "catch curb" to revent liquids getting onto the outside of the can, and a non-slip grip.
The UK launch of the PERMA-LOCK® system on all Ambersil NSF H1 aerosol products coincides with a new look for the product labels.
To find out more contact your local ERIKS Service Centre on 0845 006 6000.
Related Posts