Think of an item of your production equipment.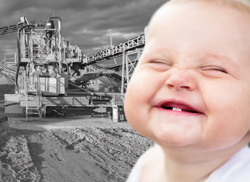 Now think of it as your baby (perhaps you already do). Of course you want to give your baby the best care and protection you can.
But on the other hand, you don't want to be dragged out of bed every five minutes just because your baby turns over or burps. So what you need for your plant is a more intelligent baby monitor, that helps you tell the difference between a cry for help and a sleepy snuffle.
What you need is an ERIKS condition monitoring sensor system.
An ERIKS sensor system is a highly cost-effective alternative to a full-blown vibration sensing set-up (which is more like a full-time nanny). Instead of keeping a 24-hour eye on your equipment and alerting you to the slightest variation from the norm, it intelligently interprets the data coming from the machine, and decides – for each individual deviation from pre-set parameters – whether or not you need to be alerted.
And because it can utilise your Ethernet, the internet and the cloud to communicate, it can alert whoever you want, wherever you want, whenever you want.
Sensible sensor choices
Every type of equipment can fail in a slightly different way. The skill – and the ERIKS know-how – lies in identifying the most common failure modes and how they manifest themselves, then selecting and installing the appropriate sensors, with the right set of parameters to identify the signs of failure.
Temperature sensors, for example, cost less than vibration sensors and diagnostics. But only if the correct parameters are established from the start will they be able to tell the difference between a temperature rise due to a failing bearing, and one caused by a hot day or local production temperature fluctuations. Whereas oil cleanliness sensors will make sure that the systems' oil is operating contaminant free in its optimum condition.
When they do detect a variation which requires an alert, there's a choice of actions which can follow, depending on the criticality of the equipment and the customer's requirements.
You have been warned
With the system connected to a warning light, siren or similar, personnel on site receive an immediate warning and can act accordingly. Alternatively, for a highly critical piece of equipment, the alert could trigger a controlled shutdown routine. Or for less critical equipment, the alert could trigger a text message or email to designated personnel, or even to ERIKS engineers.
For the least critical equipment, the data could simply be uploaded to the cloud, where it can be viewed and analysed by ERIKS engineers, along with earlier alerts, to spot trends and identify potential root causes of failure.
As machines can keep running until total and catastrophic failure occurs, any evidence of what could have caused it will be destroyed. When one customer suffered repeated bearing failures on a particular piece of equipment, a mobile sensor from ERIKS was used to capture the data and help identify the fault. At around 60% of the cost of installing a permanent sensor, and with no ongoing telemetry costs, shortterm leasing of a temporary sensor can be a highly effective solution.
Alternatively, permanent sensors can be particularly useful for capturing evidence of transient occurrences which would otherwise go unnoticed.
Look, don't touch
Some of the plant which needs monitoring the most is the most difficult to monitor. In the quarrying industry, for example, screens, breakers and crushers are well-guarded for safety, but the conditions in which they operate mean they are prone to failure and need careful monitoring.
Sensors are the ideal answer and are already used in some cases – though with manual data collection on a periodic basis. However, by fitting an ERIKS sensor system and connecting it to the customer's own PLC or a telemetry system, the equipment can be monitored more frequently – or even continually – by remote means, and at a fraction of the cost of the initial capital investment.
With the increasing sophistication and falling costs of sensors and communications technology, an ERIKS condition monitoring sensor system is a highly effective method of avoiding costly catastrophic equipment failures – and of ensuring a good night's sleep.
Just like being there
The sensors used for ERIKS condition monitoring sensor systems are simple to install and use, and highly secure too.
Their Remote Access mode provides a secure, transparent communication tunnel directly to the remote equipment. This allows remote monitoring, with data uploaded to the cloud or alerts sent by text or email, with no need for modems or Virtual Private Networks.
There's also no specialist IT infrastructure or static IP address required to get the sensor up and running sand its EasyConnect feature essentially makes the device plug and play.
For further information visit
Download a copy of the
brochure
Or request a callback from one of our
Related Posts: