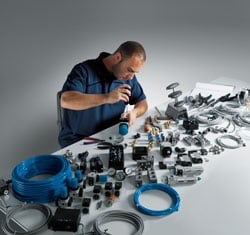 As engineers spend 40% of their time sourcing parts why waste precious limited resource sourcing parts rather than fixing the job in hand?
A recent project ERIKS collaborated with Festo, shows how having the correct parts ready can not only save you precious time but also can reduce the cost and length of failure!
The initial problem
ERIKS were contacted by a customer who was experiencing issues when building parts in one of their machines which were large, difficult to handle and time consuming to assemble.
The whole assembly is used for cutting and punching rubber prior testing in the laboratory. Two large bore compact cylinders are constructed in a tandem format, whilst another large bore compact cylinder is used for extra components.
The customer disassembles the units to add in-house machined components and re-assembles to suit the machine requirement. The whole process can take the customer around 2 hours of valuable build time.
Saving time with design
ERIKS were tasked to design, build and ship a one part number special. This would eradicate ordering two items and all the admin costs and double stocking and engineering. Working with Festo, a special single through-rod cylinder to match the rod mounting dimensions and forces required was designed to simplify the process and therefore easier to assemble.
The process involved consultation to understand the full implication to sourcing, stripping and building this special actuator and the headaches to production on building the actual machine these are part of.
Benefits with added benefits
As a result of the design of the new assembly which increased simplicity for replacement, engineers time was reduced to less than 30 minutes for fitting, saving customers costly downtime. By involving both design, production and build people in all steps of the process we could then build in the real value ERIKS brought to the customer.
One part, one order, one price. One engineered easy fit solution.
Related Posts