Lean has transformed manufacturing and continues to make a major impact on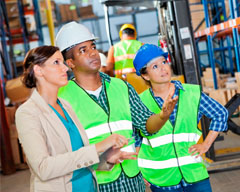 productivity, efficiency, quality and profitability. And while many leading manufacturers have been practising lean for years, there are still gains to be made – especially in overlooked areas like industrial supplies and Personal Protective Equipment (PPE).
To us at Kimberly-Clark, that's a missed opportunity. Wherever people meet processes, there's potential for improvement. We've seen first-hand how paying attention to these seemingly small details – and putting them in a Lean context – can deliver significant returns.
Our latest eBook summarises our approach to 'lean supplies', a fresh approach to your lean and continuous improvement initiatives. It's based on our experience helping hundreds of manufacturers improve their efficiency, quality and safety in measurable ways. We call our methodology the Efficient Workplace and it's helping manufacturers in automotive, aerospace, metal and other sectors look at their supplies and PPE in a new way.
We hope you find it useful. (Even more, we hope you'll get in touch so we can help apply the ideas in this eBook to your specific workplace).
Practicing what we preach
As a major manufacturer ourselves, we at Kimberley-Clark have adopted the Efficient Workplace in our own facilities, which has helped us save $2.2 billion and more than 1.4 million hours of waste across 25 of our own factories in 2011 and 2012. Now we do it for others and it's a pretty powerful thing.
The Eight Wastes
Lean identifies 8 wastes that compromise efficiency and inhibit quality in the workplace. Industrial supplies and PPE play a role in at least five of them:
1. Transportation - Too much movement of material, product or information.
2. Inventory - Building excess of standard levels of stock. Large batches of materials being moved around due to machine setups requiring oversized batches to be run, to ensure asset optimisation.
3. Motion - Non-value added movement, like people stopping a task to walk to get supplies.
4. Waiting - Machine breakdowns elsewhere on the line, hold-ups created by non-optimal processes elsewhere in the factory and waiting for component delivery all lead to down time.
5. Over-processing - Doing more work on a piece than is required by the customer. Inefficient use of supplies can lead to un-necessary steps.
6. Over-production - Producing more product or information than the customer wants and before the customer wants it.
7. Defects - Extra costs from re-work where parts do not meet specifications. The wrong supplies or PPE can damage product, process or impact worker safety.
8. Knowledge or Latent skill -Failing to take advantage of everyone's skills and talents or not effectively transferring learning. Your people are the best source of insight into their use of supplies.
Download a copy of the Kimberly-Clark e-book by clicking on the image below.
Related Posts: