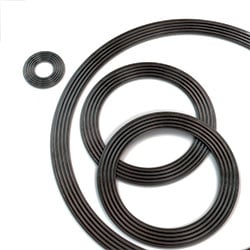 A new brand launched recently by ERIKS has a name that couldn't be more appropriate. Leader Gasket Technologies is already leading the way with its product range – and in particular with its new Elastagraph® emission reduction gasket, which sets new standards in its field.
Fugitive emissions are a growing concern for many businesses, due not only to safety concerns but also to the need to meet ever-more stringent environmental legislation, or to achieve increasingly ambitious CSR KPIs. Although the Leader Elastagraph® is a relatively new product, it's backed by all relevant quality certifications, has already been proven in use, and its unique combination of features and benefits enables fugitive emission control to 50ppm or lower.
So what makes it such an effective solution for reducing emissions?
Unique design
The Leader Elastagraph® gasket has a unique profile design, and is manufactured from a distinctive combination of high- and low-density graphite. It also utilises the patented DynaGraph™ special bonding process.
The result is a highly innovative, highly effective, affordable emission reduction gasket, for standard EN/ASME and non-standard flanges. It's ideal for use in heat exchangers, fuel refineries, and other locations where fugitive emissions are not only an environmental but also a health and safety issue.
A cross-section of the Elastagraph® reveals some of the secrets of its success.
It has a unique profile which features "humps" and "valleys" in the Elastolon corrugated steel. This corrugation creates a bellows effect which helps counter the effects of movement and misalignment. On the peak of the "humps", high density graphite (115lb) results in low gas permeability, super sealability and exceptional recovery. By contrast, the compressive inner ring is exceptionally low density (40lb), providing an extremely low "minimum design seating stress" of just 800psi. This compares with the 10,000psi seating stress of spiral wound gaskets.
The corrugation of the whole gasket including the metal layer creates a spring back effect, this moulded multiple density flexible graphite conforms to any surface irregularities, to optimise the gasket's effectiveness against leakage, even at minimum boltforce.
The high purity of the graphite – which contains no fillers or binders – has a number of benefits. It helps to reduce its porosity, which minimises leakage. It has a high level of resistance against almost all chemicals – with the exception of strong oxidisers at high temperatures – and is non-oxidising even at extremely high temperatures.
There is no cold or hot flow right up to the maximum compressive load, and thermal expansion is low.
Patented process
Also helping to optimise the effectiveness of the Elastagraph® gasket is the patented Dynagraph™ process it utilises, which eliminates any volume loss due to adhesive bake off, and which can't be damaged by over-compression. It also allows for easy removal from flanges.
The Dynagraph™ process has passed both the API-607 and API-589 fire tests, and the special bonding technology combining cogebi with graphite – cogebi mica has several attractive properties as a sealing material, such as temperature, electrical and chemical resistance.
The stainless steel substrate of the gasket offers another advantage, by ensuring dramatically improved recovery over tanged core material.
However, in spite of its advanced technology, patented process, and optimised effectiveness, the cost of the Elastagraph® compares favourably with traditional graphite-filled spiral-wound gaskets.
In fact, the Elastagraph® compares favourably with a wide range of competitive products and sealing options, including spiral wound gaskets with asbestos filler, die-cut flexible graphite pieces glued to a metal carrier, flexible graphite sheets with foil inserts, expanded PTFE sheets, and compressed nonasbestos sheets. Against all these alternatives, Elastagraph® provides the lowest Gb rating, at just 32 PSI (next lowest: 816 PSI), the highest a rating, at .718 (next highest: .377) , and the lowest Gs rating, at .001 PSI (next lowest: .06).
More than just the gasket
Even a gasket as innovative as the Leader Elastagraph® can only do so much to reduce emissions and extend product lifecycles. As with any gasket, it must also be supported by best practice.
So, for example, in the first instance you need to be absolutely sure you are choosing the right gasket for the application, and that it will deliver the results you're hoping for. Leader provides a calculating tool to help you establish the emission reduction you can expect to achieve with the Elastagraph® in your specific application.
Once you've selected and purchased your gasket, you must follow proper bolting procedures to fix it in position. Even the unsurpassed bolt-torque retention of the Elastagraph® will be compromised if you don't. The same applies to following proper lubrication processes. Ignore these and even the most effective gasket will underperform.
And no gasket is simply a "fit and forget" solution. Continual flange inspections are required, and best practice for flange maintenance must also be adhered to. To this end, full product and process training for all relevant employees is essential.
With all these practices in place, you can expect any gasket to perform well – and the Leader Elastagraph® gasket to perform superbly.
Out in front
Elastagraph® is one of Leader's Industrial Gaskets range, which also includes Spiral Wound, Camprofile and Clipperlon® PTFE gaskets. Leader Gasket Technology also offers special manufactured gaskets for automotive, valve and special machinery applications.
Leader Gasket Technologies is a division of Leader Global Technologies, which manufactures fluid sealing products in Texas, Louisiana and Slovakia, at ISO90001:2000 Certified facilities.
Related Posts