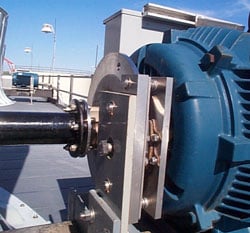 Flexible couplings do more than just connect two pieces of rotating equipment. With surveys showing that 80% of coupling failures are directly caused by misalignment, a coupling which successfully compensates for it will also help to increase equipment Mean Time Between Failure (MTBF), which in turn reduces downtime and cuts costs.
So how should you go about ensuring you choose the right coupling for your application?
First things first – literally. The coupling is a crucial component, and should be considered as part of any new system design right from the start, not just added later as an afterthought. It's also essential to choose the coupling according to the job it has to do, not just based on previous choices or cost.
Every application is different and there is a huge range of couplings to choose from. The right selection can make a major difference to efficiency, and to cost-savings in the long-term.
Choose the wrong coupling and, when it fails, failure will often be unexpected and catastrophic, with a knock-on effect to mating equipment such as:
bearings

gears and shafts

motors and

gearboxes
Failure is never good, but a failure confined to the coupling is far better than one which spreads to much more expensive components.
Coupling considerations
Which coupling to choose depends on what you want the coupling to do and what it has to cope with.
For example, if you have the right type of coupling in all other respects, but you've under- or over-rated the torque, you could be burdened either with a coupling prone to break, or one which is bigger, bulkier and stiffer than it needs to be.
You should also consider:
Whether the application is high or low speed

If there are misalignments between components to compensate for

If there are shock loads to absorb

The operating environment
- temperature
- moisture levels
- wash-down regimes.
All these factors are important when you're trying to choose the most effective coupling solution.
But even if you've gone through the selection criteria in detail and arrived at the best choice, things can still go wrong.
Mounting problems
There are a number of ways a coupling can be mounted on the shaft – and the right coupling but mounted with the wrong method may fail prematurely.
Traditional keys, keyways and taper bushings are the best choice for unidirectional applications with minimal shock or reversing loads. But if shock or reversing loads are present, keyless mounting methods will be more effective, because they're free from backlash.
The actual installation process is also critical.
Even a coupling designed and engineered to the required specification may come up against different operating conditions "on the ground", such as more misalignment than originally specified. That's why frequent or continual monitoring of the assembly is essential: so that design parameters are maintained, and wear, contamination or other problems don't creep in undetected and cause problems.
Rexnord has a wide range of couplings – from elastomeric to grid, gear, and disc – to suit all applications. Your usual ERIKS service centre can help and advise to ensure you specify the right coupling for your application to deliver maximum MTBF.
Rexnord Viva

Elastomeric Couplings with split-in-half design ensure on-site adjustability

Rexnord Omega

Elastomeric Couplings offer a wide range of shaft gaps

Falk Wrapflex

Elastomeric Couplings with replace-in-place design for quick installation/ replacement

Falk Steelflex Grid

Couplings with T-Grid for general purpose applications

Falk Lifelign Gear

Couplings for high-speed and high-torque applications

Rexnord Thomas Disc

Couplings for motor, engine and turbine-driven applications

Rexnord Addax

Composite Disc Couplings have a lightweight, material design

Rexnord Euroflex

Disc Coupling for Turbomachinery applications
Related Posts