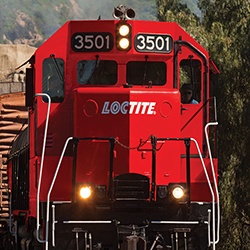 With so many potential applications for adhesives, and in so many different environments, finding the right one for the right job can be a job in itself – and using the wrong one can have all kinds of unwanted results.
So unless you want to carry a separate toolbox just to hold all your adhesive options, you need an effective general-purpose solution you can rely on in almost all situations. And that's exactly what the latest LOCTITE® structural bonders from Henkel offer.
The new Henkel® range of LOCTITE Universal Structural Bonders is a breakthrough in structural bonding. As the demands users make on bonders are changing, Henkel has specially formulated the new range to meet them – making it especially effective for assembly design and maintenance repair.
Incorporating new, patented hybrid technology, the range addresses a much wider scope of applications, at the same time as providing improved health and safety benefits. In effect, it's like having a choice of adhesives in one pack.
No compromise
Instead of compromising on bond strength, fixture speed or durability, the new LOCTITE® Universal Structural Bonders offer high-performance in all three areas. And unlike many general-purpose solutions, nothing is compromised for the sake of comprehensive usage.
In fact, the range offers improved performance on a wide variety of substrates, and is versatile enough to solve more maintenance and repair challenges than most adhesives which have gone before.
Of course you may have heard claims like that before, about adhesives which have been proven in the laboratory but which struggle in the real world. However, these new LOCTITE® products have been formulated specifically for applications in harsh factory and plant environments – because that's where you'll want to use them.
Extreme performance
Even in extreme temperatures or subject to high vibration, the Universal Structural Bonders carry on working, reliably and effectively.
For example, the new LOCTITE® HY 4070 from the range fixes ultra-fast and bonds strongly on:
Most plastic

Most plastic/metal combinations
Which means it's one product which does the job of many – and can make it easier for you to choose the adhesive you need, save on inventory, and reduce the need for storage space.
But can one adhesive really be that universally effective?
There's certainly no questioning its strength and durability, as Henkel proved in a test filmed in the USA, when a LOCTITE ® HY 4070 bond using just 3 grams of adhesive was used to pull a freight train.
That challenge required 60 minutes of curing, but for most of the applications you'll need, just 60 seconds will be ample. LOCTITE® HY 4070 is also particularly effective for variable gaps of up to 5mm between mixed substrates. That means you can rely on the new bonder for applications such as:
Tacking and temporary location of parts before permanent fixture

Emergency repair of moulded plastics or metal parts

Rebuilding plastic lugs and mounts.
Supplied in a 10ml ready-to-use pack, the new Henkel LOCTITE® Universal Structural Bonders are the only adhesives you need for your maintenance toolbox. So before the next time you need to stick, stock up, by contacting your usual ERIKS service centre.
Related Posts