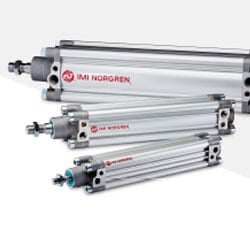 IMI Precision Engineering is releasing a new platform pneumatic actuator range, ISOLine™ at this years Hannover Messe. Built on reliable and robust IMI Norgren technology, ISOLine™ offers a 'fit and forget' system that simplifies installation, increases service life and reduces maintenance costs.
Enhancing the movement of man's most marvellous machines, the ISOLine™ range introduces the IMI Norgren Adaptive Cushioning System (ACS). ACS automatically adjusts the cylinder cushioning for changing loads, so manual cushion screw setting is not required. It also removes the need for specialist knowledge and simplifies the installation process, for safer, smoother operation.
Conforming to ISO standard 15552, the product range is up to 20 percent lighter than previous pneumatic cylinders. ISOLine™ provides improved performance; it has a lower breakaway pressure and reduced minimum speed. Available in sizes 32-125mm, the streamlined design of ISOLine™ offers a modern look with a clean profile. For system designers, additional switch mounting gives greater design flexibility.
Simon Gass, Product Manager for actuators at IMI Precision Engineering, explained: "We are investing heavily in innovation. By working in partnership with our customers, we can develop solutions that keep their marvellous machines moving effectively. The ISOLine™ pneumatic cylinder range is the result of extensive research and development and is set to bring real benefits to our customers.
"The ISOLine™ actuator builds on the proven reliability of IMI Norgren products. It features IMI Norgren's newly-launched ACS technology which not only provides easy installation and improved machinery service life but enables engineers to 'fit and forget'."
ISOLine™ completes the IMI Norgren range of high-performance ISO standard cylinders, with a cylinder for any application.
Related Posts