It has been estimate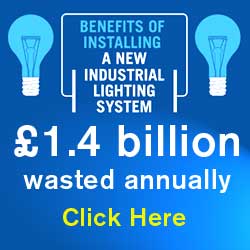 d that £1.4 billion is collectively lost by industrial firms as a result of inefficient lighting systems and costly repairs.
In this infographic, we will show how investing in a new industrial lighting system can help you save ongoing costs, improve employee health and safety and help you meet environmental targets.
The infographic also reflects on how ERIKS Lighting Solutions helped a customer reduce energy costs by 70% with a new lighting system that had a payback period of 2 years.
For more information on how ERIKS can help you with your lighting system, download our guide Best Practice Guide to Industrial Lighting Replacement Programme.
Benefits of installing a new industrial lighting system

Click below to download our Best Practice Guide to Industrial Lighting Replacement e-book
Related Posts:
Share this Image On Your Site