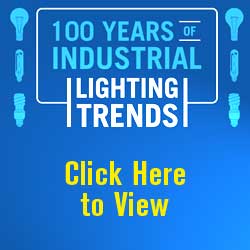 In the last 100 years, industrial lighting has changed dramatically giving businesses better working environments.
In the 21st century, companies are now eager to find technology that can now also improve employee safety and wellbeing, as well as reducing ever-increasing energy bills and meeting corporate targets on CO2, etc.
In this infographic, we look at industrial lighting trends and what has driven innovation in the field.
Lighting trends infographic

Click below

to download a copy of our Best Practice Guide to Lighting Replacement e-book
Share this Image On Your Site