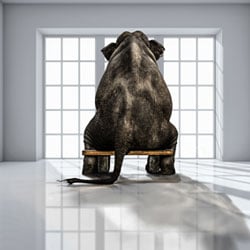 In a new report, which can be downloaded from the ERIKS UK website, we ask the question, "Is UK Industry ready for Industry 4.0?" Here, Gary Price, International Product Manager for Automation and Services at ERIKS UK, details some of the findings.
Industry 4.0 is the hot button topic for UK industry, but there are formidable obstacles in the way of implementation. ERIKS UK recently published a report analysing UK industry's preparedness for Industry 4.0 specifically and its impact on maintenance.72 per cent of the engineers who took part in our research believe they have a good understanding of Industry 4.0. What's more, 64 per cent of respondents think that Industry 4.0 will have a beneficial effect on maintenance.

However, there are also some significant barriers, the first of which is knowledge. 50 per cent of our respondents graded their own knowledge of Industry 4.0 as being average or below. 24 per cent of our respondents also identified cost as a significant barrier.

There is also the problem of silos and information sharing, particularly with OEMs and third party maintenance suppliers. 79 per cent said their own organisations would offer only limited or nondisclosure of information to OEMs. For third party maintenance suppliers the situation is worse, with 83 per cent declaring that their organisations would offer limited or zero disclosure of information.

These findings are a concern because it is the third party maintenance supplier who has the expertise in the individual components and sub-assemblies that go into the machine, such as bearings or the chain drives on a conveyor. This reluctance to share information impacts the ability of either OEMS or third party maintenance supplies to diagnose, fault find and prescribe solutions.

Big Data is another issue and there is clearly some disquiet amongst UK engineers about their own abilities to interpret and use data. 56 per cent of respondents say that they need the support of the OEM for machine diagnostics and fault-finding.

With our research we wanted to find out if Industry 4.0 can help industry implement more predictive maintenance, such as remote monitoring. 40 per cent describe their abilities to interpret data as being average or poor and yet only 46 per cent of our engineers say their organisations would grant access to a third party supplier.

Overall I can't help but ask whether our respondents, and industry in general, are focusing on the big picture, namely that Industry 4.0 offers an unprecedented opportunity to truly connect with its supply chains whilst not truly understanding how this can be achieved.

My advice to any organisation is to get the support of the right partners who can help you build and design the sensing systems that can give you the data you need in the right format to use to make decisions. It is possible, with the right advice, to build secure local area networks using sensor technology that will allow you to have early insights and fast links to your supply chain and plan work schedules ahead of you asset coming to a grinding halt.
Related Posts