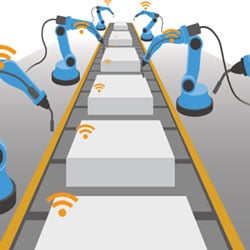 Pete Humphreys, Strategic Product Sales Manager at SMC Pneumatics UK Ltd, takes a look at how UK manufacturers can optimise the opportunities and deal with the challenges Industry 4.0 presents.
In recent years, UK manufacturing has faced many challenges from domestic skills shortages to aggressive international price pointing and product dumping. And now here comes Industry 4.0, apparently revolutionising the way we will all do business!

Where do we even start to deal with the issues that this throws up? From potential job losses on the factory floor to cyber security across globally connected networks, it brings commercial uncertainty.
And what does all that even mean?!

But is it really the 'fright night' scenario many organisations seem to believe? Or is it actually an exciting opportunity to provide the ultimate added value service to our customers, wherever they are in the supply chain?

It's not new, it's just a different way of doing things …

First of all, let's dispel some of the myths – Industry 4.0, Connected Enterprises, Smart Manufacturing or whatever you want to call it, is not new technology in itself. It is simply a new business philosophy that brings together all the different processes in the manufacturing and supply chain in a way that was not possible before wireless technology. It is the Internet that has enabled this to be done, not just across an individual organisation but between separate organisations wherever they are in the world.

Actually we are all familiar with this type of technology. Every time you buy something online - whether from a global marketplace like Amazon or a UK based individual retailer, your order gets loaded onto a smart tracking system that connects the product provider and logistics operator through the Internet to you, the customer. It tells you exactly what's happening with your purchase at any given time and when to expect your delivery.

Essentially that is what Industry 4.0 can help all of us in the manufacturing supply chain to do - and more! We just have to be open to the idea of a new way of working and able to adapt to all the different operating systems on offer.

Within the European marketplace it is likely that Industry 4.0 will become the most widely used system. Manufacturing giants such as Siemens already have smart factories operating in Germany, and the German government continues to champion its cause to the tune of more than 200million Euros so far.

That is because many aspects of the Industry 4.0 philosophy are actually very straightforward. For example, rather than a maintenance engineer doing preventative maintenance regardless of whether the machine needs it, that machine can now monitor its own condition and if a replacement part is required it can order it and alert the maintenance engineer that fitting it will need to be scheduled in. This optimises productivity and minimises downtime on equipment but there is still an essential, but more efficient, role for the maintenance engineer to play.

Integrated systems

At SMC, our end user customers are starting to ask about Industry 4.0 and how we can use it to serve their accounts better, so yours probably are too. They are very aware of the added value it can deliver to the bottom line and that's not just among the larger multinationals.

So we all have to be able to respond to this to show that our production systems can integrate and communicate with theirs. Sensors and networks will be the key to achieving this and they will have to be able to talk to our various customers' enterprise resource planning software so we can predict component demand, thus optimising productivity.

For manufacturers across many sectors, this connected environment could work as follows:

When a sales engineer gets a customer order he loads it through his tablet computer onto the company's CRM system. This data is used to procure the raw materials, create the works order, schedule delivery and communicate with the logistics function to make the delivery to the customer. The factory, of course is already set up to make these components but the works order now tells the production line the exact specification required for the next two units. The production line software will then decide when is the most efficient time to manufacture these – perhaps now to avoid a tool change or later in the schedule if other similar components have also been ordered.

That's how Industry 4.0 works best for manufacturing businesses – itenables us to optimise productivity and customer service while reducing unnecessary machine downtime and providing an instant real-time picture of the whole business process.

Make that change

At SMC we are already supplying components for smart production lines and continuing to develop new products that can take the process even further forward. Because we have customers at all points in the supply chain, from OEMs and distributors to end users, we have been able to take an holistic look at how best to exploit the opportunities the move to Industry 4.0's intelligent self-diagnostic systems bring.

So, when looking at how Industry 4.0 can support your business, we believe there are three key market drivers that industrial manufacturers need to consider:

Identify the main benefits to your business:

Greater production flexibility

Reduced rates of defective goods

Cost optimisation across the whole business

Reduction of capital tied up in plant

Decide which of the Industry 4.0 basic technologies are the most appropriate for your business:
Smart sensors feeding data back to intelligent machines (eg robots and smart manufacturing systems)

3D printers

Cyber-physical systems –computers and networks running and monitoring a physical process

SMAC – social, mobile, analytical and cloud based systems running software applications.

Manage your customers' expectations of what Industry 4.0 can deliver which essentially are:

Higher quality bespoke products

More customer focused service

Sustainable production methods

Instant real-time reporting

Analysis of these drivers against your own business needs will enable you to create a strategic plan that moves your business into the Industry 4.0 era.

If UK manufacturing is to continue to compete in this cyber-driven world then we all need to start making changes to the way we work and develop a long term strategy to keep us competitive and viable as an industry.

Related Posts