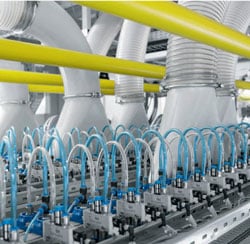 It's a technology that's been around for a very long time. So you might think pneumatics can't possibly have anything new to offer, bar the odd minor tweak. But you'd be wrong.
New developments in standard cylinders and individual valves from Festo offer:
Major improvements in productivity

Significant reductions in installation time

Notable reductions in maintenance times.
The first of these new developments is the new standard cylinder DSBC, featuring clever cushioning.
What makes the pneumatic end-position cushioning clever is the fact that it's self-adjusting. So when the load or speed changes, the cushioning adapts automatically to provide optimum performance.
This has several advantages.
The most obvious is that having the ideal cushioning setting applied at all times – perfectly matched to the load or speed of the operation – protects your machines, minimises wear, and so saves money. Compared with the DNC cylinder for which it's a direct replacement, the DSBC can absorb around five times more energy at the end position.
The product selection process for the new cylinder is easier than for the earlier DNC and DNCB series. Also, because it's designed with ISO 15552-compliant dimensions, swapping it for either model on any machine is quick and easy. All connections and adjustments are on one side, and of course there's no need to spend time manually adjusting or fine-tuning the cushioning to suit the application.
Once installed the new DSBC has a long service life, not least because – if lubrication fails for any reason – the sealed A3 dry-run version will operate even without lubricant,.
A major small improvement
Also breaking new ground in pneumatics technology alongside the DSBC standard cylinder is the VUVG compact individual valve.
Specifically designed to deliver more power from a smaller footprint, the smallest version of the VUVG is just 10mm wide, yet it provides up to 100% more flow than other valves, and has a higher energy density.
For applications needing a particularly high flow for high-speed production – such as small parts assembly or the electronics or food and packaging industries – the VUVG is the answer. Even installation is high speed, with captive screws, a locating lug to ensure correct mounting, an integrated locking seal, and a wide range of pre-assembled cables and modular electrical connection options.
Proven productivity performance
The combination of the DSBC standard cylinder and the VUVG valve has been proven in practice by NSM Magnettechnick of Westphalia, Germany, for the pressing of body panels for car doors, boots and wings.
With over 500 DSBC cylinders installed, the plant has reduced commissioning and maintenance times by a staggering 70%. At the same time, a switching time of under 10 milliseconds means the VUVG valves achieve an exceptionally high cycle rate of up to 90 pressing processes per minute. Bringing the two new developments together and combining the DSBC with the VUVG valves has enabled NSM Magnettechnick to increase output to 40% more than a conventional plant, as well as increasing process reliability.
To find out more about these latest developments in pneumatics technology from Festo, contact your usual ERIKS service centre.
Related Posts