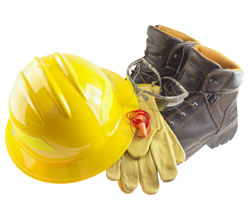 The Health and Safety at Work Act and the PPE Equipment at Work Act make the employer's responsibilities clear.
But when working in highly hazardous environments, how do you choose the right protective equipment that is not only right for the job but complies with all the Health and Safety legislation relevant to your industry?
In their hands
In any industry, hands are highly vulnerable – and the chemicals industry is no exception. No-one is likely to pick up loose chemicals in their bare hands, but splashes and spills can occur and hands need protection from them.
If gloves are going to be worn for any length of time, as well as being resistant to aggressive chemicals they need to be comfortable to wear. If instead they are going to be worn for short periods and put on and taken off repeatedly, then that needs to be easy to do. So a range of different types of gloves, as well as a choice of weights and sizes, is essential to have on site.
The Chemprotect range from BM Polyco, for example, offers heavy and medium weights, and meets the EN3743 standard for Resistance to Chemical Hazards (permeation). Alternatively, a protective glove well-known within the chemicals industry is the Ansell G43 – easily recognisable by its bright yellow colour. Suitable for light chemical applications, it offers good grip and sensitivity, which can be important for operating switches, buttons and knobs.
Single-use disposable gloves also have their place in some plants for some applications. Polyco and Ansell both offer these, whilst HPC has one of the most extensive general ranges available.
For handling the most dangerous chemicals, a full enclosure with box gloves is the safest approach. These gloves have full integrity welds and are 100% leak- and chemical penetration-proof. BM Polyco has examples of this type of protective glove within its range.
Visibly safer
Not every hazard within the chemicals industry is easy to see. In fact, chemical burns from vapours, mists and fumes invisible to the naked eye cause a greater number of serious injuries than the more obvious splashes and spills.
For some chemicals, sufficient protection against the risk of inhalation will be offered by a basic "dust" mask. But where the particles involved are smaller and therefore more able to penetrate, more complex masks are required. 3M is a world leader in this type of PPE, offering a range encompassing everything from simple disposable or reusable masks, through to powered air or supplied air respirators.
Whatever the type of mask, what's important is that it is comfortable to wear and doesn't restrict breathing, movement or vision. The more restrictive it is, the more likely an employee is to risk not wearing it "just this once". And once may be all it takes.
Fast First Aid
If a person does come into contact with a potentially harmful chemical, it is essential to act fast to prevent or limit harm. This is particularly the case if the chemical has somehow found its way into the eye.
Washing out the eye as quickly as possible is the most effective way to provide First Aid, so an eyewash should always be provided in areas where a chemical splash of this nature is possible. Although 0.9% saline solution is the most generally used eyewash, Cederroth Eyewash from Safety First Aid has been clinically proven to be more effective, and is one of the fastest-acting solutions available.
When every second counts, that's an important consideration.
Related Posts: