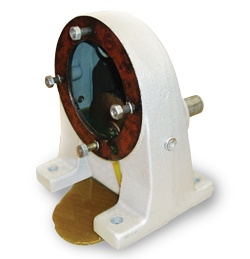 How long would it take your business to recover from a product recall? Probably longer than you think. Research shows that a product recall due to contamination can slash sales by at least 25% in the two months following.
And how big a fine or how long a prison sentence could you be facing as a result? Under new sentencing guidelines effective from 1st February, an unlimited fine and/or two years' custody if health and safety guidelines have been breached.
Add in contaminated product disposal, lost production, brand and reputational damage and loss of goodwill, and the repercussions – and costs – just go on mounting. Yet one global cereal manufacturer avoided all these issues for just a few hundred pounds.
Leaks, spills and seepage
Oil leaks are a major cause of product contamination and motor failure. In fact 90% of geared motor failures are the result of oil leaking into the motor.
This was a particular problem for the cereal manufacturer, as most of their geared motors were direct mounted onto the gearbox. With the gearbox sealing often being less than 100% reliable, gearbox oil was able to splash around the seal on the motor. This eventually degraded enough for oil to seep into the motor windings, and once the motor was contaminated, premature, unpredictable failure was inevitable.
But that was only the start!
Oil was also leaking onto the floor, causing serious health and safety issues. And replacing a failed motor meant separating it from the gearbox in situ – without causing even more oil spillage. That was a real challenge, often leading to lengthy downtime.
More than motors at stake
Though an oil-contaminated motor is a problem, it's much easier to deal with than an oil-contaminated food stream.If any oil from the gearbox had leaked into an area where products could be affected, it could easily have led to:
Product recall

Damaged brand reputation

Fines or imprisonment

Lost revenue in the short- and long-term.
So as part of their Continuous Improvement programme – which included improving the cleanliness of production areas – the manufacturer contacted ERIKS for advice on reducing oil leaks from their geared motors. ERIKS' Drive Specialists were able to suggest standardising to a Fenner® geared motor range, which offered a number of benefits, including:
Dry fitting

Standard IEC frame

Stock reduction.
Double-sealed for protection
The Fenner geared motors they proposed incorporate a "dry fit" adaptor between gearbox and motor. This houses not one but two seals, which means:
The gearbox doesn't need a motor attached to prevent oil escaping while in stock. So instead of stocking gearbox and motor, the customer could just stock the gearbox.

If a motor failed, it could be removed and replaced in situ simply by undoing four screws, with no risk of the gearbox oil escaping. This significantly reduced downtime for the customer.

Less risk of oil leakage during operation, ensuring a greatly extended gearbox life.

Less risk of oil seeping into the motor (past three seals, including the motor's own), extending motor life too.
The Fenner range also has a standard IEC frame and footprint, matching that of geared motors from many leading European manufacturers. So the customer could fit any motor manufactured to the IEC standard. Several geared motor manufacturers use nonstandard flange and shaft dimensions, limiting the customer's procurement options and availability of replacements – and putting a premium on the cost of replacement. In addition we are also able to provide them with special food grade paint and stainless steel motors for extra protection against wash down.
By standardising their geared motors to the Fenner range, the customer now has a cleaner production area, less production downtime, and has been able to save money and space by rationalising geared motor stocks.
If you would like to find out how you could benefit from the standardisation, simply contact your local ERIKS Service centre.
Related Posts