The latest Purchasing Manager's Index statistics are a triumph for British manufacturing.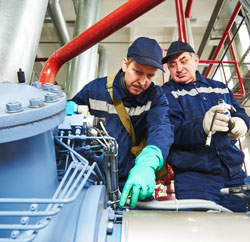 Hovering well above the 50 point barrier which signals growth, our industrial output has rarely been healthier in recent years.
Before we start getting over-excited, I just wanted to pour some cold water on all of this back-slapping.
My concern is that these numbers mask an uncomfortable truth, namely that British manufacturing is all-too-often operating its machines flat out. Like a car that is being thrashed up and down a motorway every day of the week, our packaging machines, conveyors, machine tools and lifting equipment are working 24/7.
This is good for output but bad for the machines. The old saying, 'what you don't repair you destroy' has never been more apt.
We are not doing enough repairs.
The truth is that we aren't doing enough repairs, or at least we aren't doing enough of the right sort of repairs. Built-in redundancy time, which would give maintenance people the opportunity to dig a little deeper and identify whether a bearing is going to fail, or a spindle is nearing the end of its life or if a ballscrew needs changing, is impossible if the machines are working flat out.
The root of this problem, I believe, is cultural.
In the UK, management cannot stand to see a machine idle. Idle machines are by definition, non-productive and an eye-sore. Therefore, the only time maintenance engineers get access to a machine is when it goes down.
In Japan, the model is very different. In plants I have visited in the semi-conductor industry, fabrication equipment was only ever running at 60% capacity. One machine was always down for preventive
maintenance with another one idle.
This meant that if there was a machine breakdown, the idle machine could be brought online and production continued. What's more, it ensured that maintenance engineers could prioritise preventive maintenance work over breakdowns.
Vendor support, what is the true cost?
With maintenance teams already stretched, the key to implementing this sort of system is good vendor support, which allows in-house maintenance engineers to focus on preventive maintenance while vendor engineers pick up the firefighting.
This is not the cheapest option, but from my experience yield and uptime numbers were significantly superior in Japanese factories with this sort of system in place, compared to their British equivalents.
However, there is stiff resistance to this approach from most British managers. In-house maintenance teams plus vendor support is regarded as a 'cost too far'. Attempts to implement more planned and
preventive maintenance schedules, including condition and vibration monitoring, are therefore at the mercy of events and rarely survive the first major breakdown.
We wouldn't expect a garage to perform an MOT while a car is running and we wouldn't expect a repair man to sort out a washing machine while it's in the middle of a rinse and hold. Why then do we expect our maintenance engineers to perform miracles?
There are some outstanding examples of highly efficient maintenance teams in the UK, leading the way in implementing state-of-the-art maintenance practices, but they are the exception rather than the rule.
My fear is that too many are operating on a wing and a prayer, hoping that machinery can keep going and firefighting when it inevitably fails.
Related Posts: