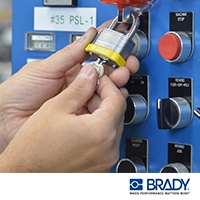 Servicing, maintaining, cleaning and repairing equipment are dangerous activities. A worker only has to be in the wrong place at the wrong time when the machine starts up, and injury or even death could result. And with one death and 160 work-related accidents every 15 seconds1, the odds don't look good.
Making sure the machinery simply can't start, or be started, is the obvious answer. The only way to be absolutely certain of that is to isolate it from all its energy sources. The only way to be absolutely certain of that is to use the safety procedure that's becoming more and more popular, as well as being best practice in all European countries and law in some.
The procedure is known as Lockout/Tagout (LO/TO) and uses physical locks and informative tags to stop machine movement and accidental re-energising.
Planning to be safe
The most effective way to make LO/TO work is first of all to work out a proper programme. The global leader in LO/TO solutions – Brady – has broken this down into 6 simple elements.
Create a LO/TO policy – decide when and on which machines you need to implement Lockout/Tagout, and who is going to be responsible.
Write machine-specific procedures – every machine is different, so the way to implement LO/TO will be different for every machine.
Identify energy isolation points – these are crucial elements in LO/TO as they are where you will physically ensure the machine's energy source is removed.
Provide training – employees should not only be trained in why, how and when to undertake LO/TO, but should also be educated in what to do when they encounter a LO/TO tag on a piece of equipment.
Provide proper LO/TO tools – different machinery will have different ways of turning off the energy source, including valves, buttons and levers. Proper locks are essential to ensure they are safely locked out, and informative tags are also required to tell workers why the machine is off, who is working on it and how long it will be out of action.
Make your policy sustainable – safety is an area where there should be continuous improvement, so your LO/TO policy needs to be sustained from one year to the next. It's not a one-off; it should be ongoing. And it should not be reactive, but preventative.
Putting it into practice
With your LO/TO policy worked out, you need to put it into practice whenever an employee or a visiting worker such as a service engineer is working on a piece of equipment.
ERIKS is committed to Zero Accidents, whether on our own sites or on customers' sites, and we implement LO/TO whenever and wherever appropriate.
To ensure it is effective, there are 7 steps to take:
Notify all affected employees of your intention to lockout the equipment.

Review your written lockout procedure.

Perform the normal machine stop.

Shut off all energy isolation controls.

Lockout all the energy isolation controls.

Dissipate any stored or residual energies.

Verify the zero-energy state to safely begin servicing.
Follow these steps, and that LO/TO padlock will turn into a key. The key to saving lives, to cutting costs by reducing lost employee time and insurance premiums, and to improving productivity by reducing accidents that cause equipment downtime.
To find out more about LO/TO and the equipment and accessories you need to implement it, download the Brady Enable safer machine interventions booklet below.
1. International Labour Organization, 2015
Related Posts