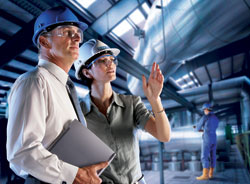 Without knowing every detail of an industrial lighting system, a basic audit can be completed by yourself or a competent person to assess your current lighting status.
Carrying out an audit gives you valuable information on what lights are used most within the business, how energy-using equipment is controlled, and what opportunities are available for saving money.
Follow these steps below to conduct your own industrial lighting audit.
Step 1: Preparation
You will need several items in order to perform a proper industrial lighting audit. They are:
Safety Equipment (gloves, goggles, hard hats, and any other PPE required)
A checklist of the items you will be examining during the audit
A method of recording the results of each examination (pen and paper/tablet device)
A digital camera
An infrared thermometer (to help measure and compare levels of light)
A torch
Step 2: Review
Next, review your energy bills, receipts, and other relevant documents to determine where you are currently at.
You should know the types of lamps installed within the facility, how many of each type there are, and what their expected energy usage in a given time frame should be.
Unfortunately, most businesses do not keep exact records of when lamps are changed - they just do it and move on. This information is valuable if you have it - an estimate of how long until each lamp burns out can make for a more solid business plan - but it's not worth worrying about if you don't already have the data.
Be prepared to do two walks through your facility - once during normal operational hours and once well outside of normal hours. This will tell you how much energy is being wasted when it shouldn't be.
Step 3: The Audit Checklist
These are the most important things to check for during a walk through your facility. Make notes as you go along:
Storage and Equipment
Are there any unused lamps in your storage rooms?

If yes, what types of lamps are they? Older lamps (halogen,

T12

, etc.) may not be worth installing in current fixtures, even if you already paid for the lamps. Consider donating them to a charitable facility that has yet to switch over or properly disposing of these lamps and writing off the loss.

Do you have the means to properly dispose of hazardous lamps?
Lamps and Lighting
Are there any areas of the building that are over-lit or under-lit during operational hours?
Are there any old, inefficient lamps (tungsten, etc.) still being used in any part of the facility?
Are any T12 lamps still in use? If so, these will need to be replaced by T8s or T5s once they burn out.

If your building does have T12 lamps, you should check to see whether or not adapters can be used inside the fixtures. If not, you'll need to replace both the lamps and the fixtures.

Are there any halogen lamps that can be replaced by more modern choices, such as CFL or LED lamps?
Can the output of lamps on the exterior side of the building be reduced?
Control Systems
Are there any areas being unnecessarily lit? (Unused rooms, far corners of a warehouse, etc.)
Is it sensible to install occupancy sensors for areas that see intermittent use? (Areas that aren't visited as often are more likely to have the lights left on for extended periods of time)
Have all windows and skylights been thoroughly cleaned, allowing for as much natural illumination as possible?
Is it practical to install daylight sensors in rooms connected to the outdoors?
Does the facility have a switch-off policy that instructs employees to turn off lights when done in an area?
Are the exterior lights controlled manually or automatically?
Are all light switches easily accessible and clearly marked?
Legal and Financial
How much will it cost to replace each type of lamp in the building? (Especially old-style lamps, which may require updated fittings in addition to the lamps themselves)
Is the rate of return that newer lamps provide worth replacing the current lights right away, or should new lights be installed as the old ones burn out?
Are all areas being lit in accordance with EU guidelines? If not, how much will it cost to come into compliance, and how soon can this be done?
Audit anually
Remember, energy savings are one of the most easily-controlled costs that modern businesses have. A solid strategy for controlling energy usage - including minimising the use of lights that don't need to be on and installing high-performance lamps - will typically bring in an excellent return on the initial investment.
Lighting audits should be performed at least every twelve months - buildings whose lamps see near-constant use should consider performing them more often, but they should never be less frequent than an annual examination.
ERIKS offers a free, comprehensive lighting consultation that will help you assess the benefits of installing a new lighting system. For more information about the consultation click here.
Click below to download a copy of our Lighting Specification Checklist
Related Posts: