Do you sometimes feel there are only two choices when you need to connect ducting? Either you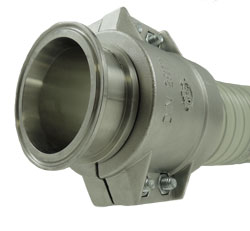 pay more than you really want to, for manufacturers' crimped ducting assemblies. Or you use low-cost worm drive clips, but at the expense of non-compliance.
If that sounds familiar, you'll be pleased to learn there's actually another alternative that's not only cost-effective, but also re-usable, FDA complaint, and unique.
Innovation in clamping
Developed in-house by ERIKS own dedicated hose technology experts, the ERIKS Steri-Clamp system is an innovative new approach to clamping. Its ground-breaking feature is a unique ether-polyurethane cuff, which provides three major benefits:
It creates a join which is free from potential bug traps
It maintains electrical conductivity
It has anti-static properties.
These qualities make the ERIKS Steri-Clamp system suitable not only for food and pharmaceutical applications, but also for safe use in EX environments.
The cuff material is manufactured free from phthalate plasticisers. It also creates no carbon marking, and has a high abrasion resistance. As a result, it's fast becoming the standard for hygienic applications and the safe handling of powders and gases.
And it's not just these major performance benefits that make it an attractive proposition. It's also the fact that it's re-usable, robust and durable. So it won't let you down, even under pressure – time after time.
Faster fitting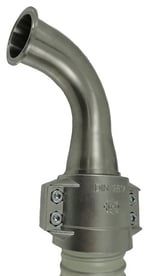 Of course it's not only hoses and seals which are under pressure in many operating environments. It's also the engineers who work with them, and who have to keep downtime to a minimum – whether for planned maintenance or unplanned repairs.
That's why the ERIKS Steri-Clamp ducting assembly has been designed for quick and easy assembly and fitting. It still creates a perfect vacuum- and pressure-tight seal, but it can be put together in just a few minutes.
Complete ducting selection
As well as the reusable, FD compliant, easy-fit ducting assembly – available in sizes from 1" to 4" – ERIKS can supply the full range of ducting for it to connect.
ERIKS' flexible ductings, suction and delivery hoses are available in a range of coil lengths and duct sizes, as well as a choice of materials. Whatever your application or requirements, you can be sure to find the ducting you want, from a choice of:
PVC
Polyurethane
Silicone
Neoprene
Aluminium
ERIKS' ducting solutions can also be tailored to your requirements – if, for example, you need ducting for extreme temperature environments (hot or cold), EX environments, or for food or pharmaceutical production.
No compromise
Whatever your ducting or ducting assembly issue, there's no need to compromise on quality, or to stretch your budget.
Your first step should be to contact the ERIKS Hose Core Competence Centre, which can provide expert advice on the right hose, ducting and assemblies for your particular application. And if the solution isn't available off-the shelf, they can create it to your exact specification.
Years of experience give our hose technicians unparalleled knowledge and understanding of hose applications – which means they can give you more effective, more reliable, customised, and even managed, solutions.
To find out more: Visit our dedicated website.
Or click below to download a copy of the Steri-Clamps flyer
Related Posts: