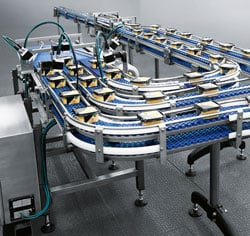 Making customer-specific conveyor systems is the speciality of the Czech company I.A.N. Technic spol s.r.o. So when a customer wanted a label-checking system to maximise precision handling and minimise product waste on a new production line for fish delicacies, they didn't believe it would be a problem to find one.
However, after several weeks of searching the market for a standard solution, they realised the system component they wanted simply didn't exist. Which meant their next search was for a capable and reputable supplier to create one. Fortunately they found Festo.
Fishing for Faults
The customer's production facility incorporates a number of different production lines, but this line in question is where fish products are canned and the cans labelled, at a rate of two hundred a minute.
The labels are fixed to the can bodies and lids, and once the cans reach the end of the line they are printed with a "Best before" date.
The labels have two important functions. Obviously the first is to clearly identify the product and brand. But the second is to provide important nutritional information – particularly in the light of EU legislation on allergens in food. To carry out both of these tasks and meet retailers' demands for uniform presentation on-shelf, the labels need to be flawless. That means correct and consistent positioning, without creasing, firmly fixed, and legibly printed with the correct "Best before" date in the right place on the label.
These are not only aesthetic requirements. The EU regulations on providing food information to consumers – which came into place in December 2014 – lay down how labels should present information on allergens, including the legibility of the information, and requires food labels to be clear and understandable.
But it doesn't matter how well a label is designed to meet these requirements. It still won't comply if it creases, folds, or falls off when it is fixed to the can.
Reducing the Waste Line
Being able to spot and eject faulty cans immediately – long before they have a chance to get away, leave the factory, and reach a sales outlet or consumer – means expensive waste is quickly and efficiently avoided. It also helps to protect and preserve the brand's reputation.
So it's essential for the canning and labelling machine operator to be alerted if there are any errors at all in labelling, and to be able to remove any cans with sub-standard packaging. But maintaining high standards demands a highly effective visual checking system.
With a suitable standard solution unavailable, I.A.N. Technic spol s.r.o. decided to look for a collaborator to help develop a tailor-made product specifically for their application.
Product Plus…
The manufacturer wanted more than just a product, and more than just a basic design and manufacturing collaboration.
As Aleš Novák, Executive Head I.A.N. Technic spol s.r.o. explained, he was looking for "the right products, backed by good technical advice and excellent support during the operational phase and a good reputation. They're all important factors for the selection of a strategic partner."
The company found what they needed from Festo. A standard industrial vision sensor was already available off the shelf, and Festo's expertise enabled it to be upgraded to cope with the particular conditions prevailing in the customer's canning area.
Festo already "has a good reputation in our company," says Novák, "and is known for its comprehensive customer service and high standards. And then there is the fact that they have the right products for our needs, backed by technical advice and support, both before and after sales."
Collaboration for Quality
The test station had to meet some high-performance specifications, as well as be capable of integrating seamlessly into the planned production line. Not only that, but it had to be suitable for use in food zones.
I.A.N. Technic spol s.r.o. briefed Festo on the requirements, then the two companies worked together to arrive at a suitable solution.
The end result incorporated the Festo Vision Sensor SBSI: an all-in-one optics, lighting, evaluation and communication system. Housing this high-quality vision sensing device in a sturdy food-safe IP7-rated outer casing, made it suitable for ambient temperatures from 0-50°C, and able to survive the aggressive washdown regime of a food and beverage production environment.
With its optics offering a working distance of 6mm to infinite or 30mm to infinite, and a field of vision of 5 (min) x 4mm or 8 (min) x 6mm, it has a resolution of 736 x 480 pixels (Wide VGA) and a 50 frames/ sec frame rate.
In a footprint of just 45 x 45 x 76.7 mm, the vision sensor SBSI offered the perfect solution for carrying out simple quality checks, position sensing, completeness checks and presence/absence checks on the customer's production line.
In the Can
This highly efficient and effective label checking test station now enables the customer to ensure total packaging quality, with precision labelling for every can which rolls off the production line – and far less product wastage.
In addition, I.A.N. Technic spol s.r.o. can offer their customer the reassurance of a speedy and effective resolution of any issues which might arise, thanks to the comprehensive aftersales service provided by Festo.
Related Posts