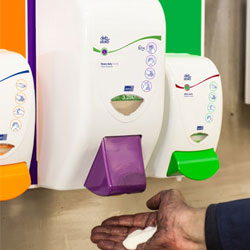 It costs €600m a year across the EU, it results in 3 million lost working days a year, it can even force workers to change their jobs!
What is it? Occupational skin disease.
But it's not only your employees' health and well-being that can be affected. Reduced efficiency and productivity, and increased costs to your business, are all effects that can be associated with this very real risk.
Employers have legal obligations to protect against the problem, but getting the right protection, in the most cost-effective way, needs a clear understanding of the particular problems in your business, and experience of how to solve them.
The Invisible Threat
Skin diseases are the second most common work-related health problem – but even that may be an underestimate. In fact the European Dermatology Forum declared it could be underestimated by a factor of up to 50. The European Agency for Safety and Health at Work has even identified skin disease as "one of the most important emerging risks related to exposure to chemical, physical and biological risk factors".
Most of the recorded cases are irritant and allergic contact dermatitis – accounting for up to 95% of reported incidents – with skin cancer being the next most common.
In the worst case scenario, employees who contract one of the many potential skin diseases through their work could end up suing for compensation. They may even have to change jobs if they develop an allergy to an ingredient of your process or product. But before things go that far, there could be lost productivity and increased costs due to sickness days, low morale and low efficiency.
And serious problems won't always be kept amongst yourselves. Negative publicity has a habit of spreading far beyond the perimeter of your site.
Fortunately, with the right support, approach and products, it doesn't have to be difficult or costly to be compliant and keep your employees safe.
4 Steps to Safety
Employers have an obligation to provide cleansers, creams and washing facilities, as well as giving employees instruction and training. Whether it's instructing them in something as basic as the correct technique for washing hands, or developing and implementing a full skincare programme, it helps to have expert support and advice.
With over 70 years' experience to call on, Deb have developed a 4-step approach to skincare, to:
Protect

Cleanse

Sanitise and

Restore

For each of these steps, there is a range of highly-effective Deb products to choose from.
There are also over 20 Deb skincare experts available to visit your site and review and discuss your current skincare facilities and requirements.
The end result is a Deb Programme tailored to your needs, to help ensure you meet your legal obligations to protect your employees against harmful occupational skin diseases – and to help you protect your business and its reputation.
If you'd like to find out more about what Deb can do for you, download our latest leaflet below or contact your local ERIKS Service Centre here
Related Posts: