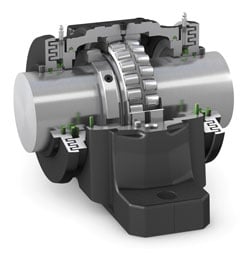 In the highly contaminated, dusty, dirty operating environment of a mine or quarry, machinery has a hard life. But even here, the power of the SKF three-barrier solution – combined with the new SKF Taconite seal – has been proven to lengthen equipment service life by up to three times.
Quarry, coal, cement and other mineral dust isn't just dust. It's highly abrasive dust. Abrasive dust that can find its way into machinery, and mix with the lubricant inside to accelerate the wear and failure of bearings, seals, gears, couplings and other rotating parts. The low operating speeds and high loads of conveyors – and the sometimes high temperature environments – only make the problem worse.
And because of the difficulties of maintenance and monitoring in some of their operating locations, sometimes the first you'll know about a problem will be a catastrophic failure.
In fact, contamination and lubrication failures combined account for over half of all bearing failures in mining applications. So in these kinds of conditions, just one solution won't cut it. Which is why SKF has three.
Contamination and lubrication failures account for over half of bearing failures in mining applications.
Three-barrier solution
Faced with the challenge of protecting bearings against the ingress of a fine-grained, highly-abrasive iron ore called taconite, SKF developed a new cartridge seal for split housings, specifically for the job. SKF Taconite Seals proved so successful that they are now also used as an effective primary barrier in applications where any other mineral dusts – or even liquid contaminants during high-pressure washdowns – are present.
The seals work by incorporating three or four labyrinth stages, and an internal V-ring. Water is deflected by a rotating labyrinth ring – sealed to the shaft by an O-ring – which actively "flings" the water away.
But if one barrier is good, two is even better. So behind the Taconite Seal, SKF recommends a secondary barrier of grease, filling the bearing housing cavity.
And if two barriers are better, three barriers are unbeatable. So, the SKF three-barrier solution also incorporates an upgraded sealed SKF Explorer spherical roller bearing.
24 months' failure-free operation of an SKF Explorer SRB saved 50% replacement costs: over £18,000.
Exploring economies
SKF Explorer spherical roller bearings have been proven to significantly reduce the running costs of conveyors in a sand and minerals processing environment.
Askania – a processor based in Sweden – was replacing four open bearings across a total of 88 bearing positions every nine months, due to sand, dust and grit ingress. Replacing the bearings with SKF Explorer spherical roller bearings resulted in just three bearing changes over a 24-month test period.
Previously, running costs for all 88 bearing units for 24 months were £36,000. The sealed SKF Explorer bearing lasted for the same period without failing, for less than £18,000: representing a 50% saving.
Built to last
SKF bearing housings are built to last, from high-grade cast material or ductile iron. Large ribs in the base, and extra material around attachment holes, resist shock loads and minimise distortion of the base and bearing seat at high loads.
The SKF Explorer bearing uses upgraded steel, developed with a new, patented heat treatment process. The bearing is factory lubricated, then wfitted with integrated seals to protect it.
The result is improved wear-resistance, improved sealing, and – even with a poor lubrication regime and in the contaminated conditions of a mine or quarry – more than three times the service life of wa standard bearing.
Robust well protected bearings are key to machinery performance in this sector
Complete compatibility
As a crucial component of the SKF three-barrier solution, the SKF Taconite Seal is widely applicable, being compatible with both new and older housings. It's also easy to install and align and – once installed – helps to reduce grease consumption, and associated environmental impact.
This combination of benefits has made it a highly attractive choice for the mining and quarrying industry, where it is already widely used on conveyor pulleys, grinding mill pinion housings, bucket elevators, winches, pulverisers and fans.
On one grinding mill pinion application at a gold mine, the previous non-drive end spherical roller bearings was failing every 15 months, due to water ingress to the housing. Replacing the bearing with the SKF three-barrier solution of SKF housings, SKF Taconite Seals and SKF Explorer spherical roller bearings, has led to elimination of bearing failure for at least two years and nine months (as at February 2015).
longer bearing life.

reduced maintenance costs

lower environmental impact

.
You only need one good reason to upgrade to SKF Taconite Seals and the SKF three-barrier solution. But now you have three.
Related Posts: