When the Japanese tsunami struck three years ago one of the untold stories was the potential threat to the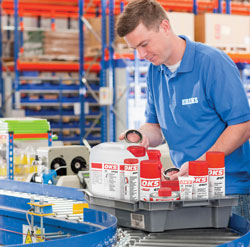 industrial MRO supply chain.
Many industries, often overnight, went from feeling totally secure in the ability of their Japanese suppliers to continue to meet deadlines to wondering when, and even if, facilities would come back online and resume supply.
However, natural disasters and other 'events' are but one threat to the MRO supply chain which is characterised by fragmentation and is, by its nature, prone to inefficiency.
The MRO supply chain is typically much more complex than the direct supply chain. The wide variety of MRO materials required by manufacturers means an inordinate number of suppliers are involved, providing everything from gloves and grease through to pumps, drives and bearings.
Maintaining and managing those relationships is potentially costly. I've lost count of the number of articles which have advised that all supply chains should be regularly audited. With the MRO supply chain this is virtually impossible for the end-user.
So what are some of the more obvious risks?
Well, it doesn't take a tsunami for security of supply to become a problem. Labour disputes, transportation difficulties and supply problems much further down the chain with component manufacturers, can all stop a shipment. Having relationships with alternative suppliers is vital.
Secondly, product quality. One of the biggest mistakes a company can make is to base supplier relationships solely on price. The temptation for the supplier will be to win the business and then strip cost out of the manufacturing process, in order to improve margins, by reducing product quality.
Non-conforming products are also a risk. Both UK and EU regulations continue to set the bar ever higher in terms of the demands on products, particularly in terms of energy efficiency and their impact on the environment. The risk of non-conforming products entering the MRO supply chain includes the cost of fines, additional transactions, repairs and scrappage.
Counterfeit products are also a problem. The fact of the matter is, many countries around the world have no patent or copyright protection which leaves them free to pass off inferior products as the real thing.
Those following my arguments closely in this blog will have noticed that I am simultaneously outlining all manner of problems whilst saying it is virtually impossible for the end-user to do anything about them.
What then do I suggest?
In short, my advice to those in industry trying to manage their indirect supply chain is to gain control by giving up control.
Global distributors like ERIKS will do the heavy lifting for you - auditing suppliers; monitoring changes to regulations; ensuring that anything put into your production facility is compliant and, crucially, offering alternative sources if your regular pump or bearing brand lets you down.
That is the real value in an indirect supply chain and why it is not always best to go direct.