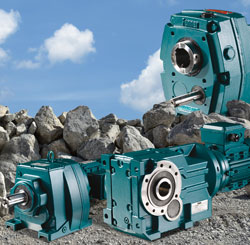 There are probably as many issues that arise with gearboxes as there are gearboxes in everyday operation.
But if you want to ensure optimum drive reliability, there's a far less bewildering range of choices – which means it's much easier to choose the right path.
In fact there are just three basic routes to getting the gearbox you need for your application, and the reliability you need for your productivity. So all you have to do is decide which route is most appropriate for your needs.
Route 1: Fenner finds it for you
With so many gearbox options available, finding the specification which best suits your application can be a long and tortuous process. And unless you've dedicated your career to being a gearbox specialist, the chances are you're still not going to find the very best gearbox for you.
But dedicating a career – actually, several careers – to specialising in gearboxes is exactly what Fenner has done. So you can rely on their expertise to select the optimum gearbox for your application.
Simply send a résumé of the application to Fenner, and it will be matched to the perfect partner product, from a huge and varied range.
The Fenner gearbox range includes products with:
Torque ratings from 1 – 900,000Nm

Power ratings up to 90kW available from stock

Ratios from 2:1 to 650,000:1

A choice of flexible mounting options.
With so many choices and variables in the comprehensive Fenner range, plus so much flexibility, and so much gearbox expertise to call on, Fenner engineers can easily find an ideal match for your needs.
Route 2: Switch your supplier
Can your current gearbox supplier match the huge choice of products that Fenner offers? Do their products incorporate as many market-leading features as Fenner gearboxes? And does your current supplier match the reliability of Fenner's service support?
With Fenner as your gearbox supplier, you can benefit from the many mechanical advantages of Fenner gearboxes. With IEC standard motor mounting, and utilising the dry-fit connection principle, Fenner gearboxes are guaranteed to fit. When every minute of downtime counts – and costs – that's a valuable benefit.
There's also the support of nationwide engineering coverage and 24/7 availability, for your peace of mind. And extended warranty options that effectively put that peace of mind in writing.
So you can fit Fenner and forget it – because everything is taken care of.
Route 3: Get your problem solved
Some gearbox problems are unique to their applications. If that's the case for you, Fenner can engineer an equally unique and individual gearbox solution.
Calling on decades of engineering expertise, a wide range of products and extensive application know-how, Fenner engineered gearbox solutions turn problems into productivity and reliability. These full turnkey solutions – designed by CAD-trained project engineers – can be created for new installations or retrofits, and are fully project-managed from start to finish.
So in reality, there aren't three basic routes to getting the gearbox you need. There are four. Because before you think about any of the other three, the first one is: contact Fenner, at www.fptgroup.com
For more information download a copy of our latest flyer below, or visit the Fenner Power Transmissions website
Related Posts