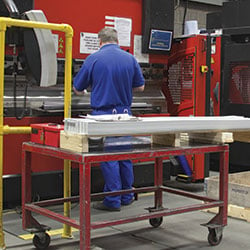 One of your many duties and obligations as an employer under Health and Safety legislation is to provide safety and ergonomic value to workers. No doubt you're fully up to speed and compliant where PPE is concerned. But there's one area that is more easily overlooked – even though it's right under your feet.
When workers stand on a hard surface for prolonged periods, it's not just uncomfortable. It can actually lead to pain and long-term physical damage, as well as increasing their risk of accidents.

Research has also shown that all that pain and discomfort can even have a knock-on effect on worker productivity.

So it's not only the workers who suffer.


Feel their pain
Giving employees something more comfortable to stand on may sound about as important for health and safety as nicer mugs in the canteen or softer toilet paper. But standing on concrete or similar hard flooring for the duration of an eight-hour shift can actually cause serious physical problems.
Standing still causes muscles to constrict, and stops blood from flowing at its usual rate. This not only leads to muscle and joint pain, but can also be the start of varicose veins. Over time, it can lead to flat feet – which are painful enough – which can ultimately result in serious inflammation of the ligament on the bottom of the foot. This is plantar fasciitis, which is identified by the searing pain it causes along the foot.
No-one works well when they're uncomfortable or in pain. Concentration drops. Fatigue sets in early. And that's when mistakes start to happen: mistakes which may result in a drop in product quality at best, or a serious accident at worst.
However, simply providing some ergonomic matting to stand on can resolve all these issues – as one manufacturer proved.
Injury down, productivity up
Wearwell – manufacturers of ergonomic matting – took part in a year-long test at a manufacturing plant to measure the effect of their matting solutions on employees. The results were impressive:
70% reduction in injuries

23% reduction in absenteeism

2% increase in productivity (equivalent to €269,954)

€53,999 saving on insurance premiums (due to lower injury rates)
The same manufacturer also asked employees to complete a questionnaire every month, reporting how tired they felt and how their bodies felt before and after their shifts. All of them reported feeing less tired, with less discomfort tin their legs, feet and lower back.
Other independent studies by Loughborough University and the University of Michigan1 have proved that, compared with hard floor surfaces, ergonomic mats reduce the physical stress of standing by 50%.
So it's pretty clear that – if you have hard floors in your manufacturing environment, where employees stand for long periods – then ergonomic matting solutions of the kind offered by Wearwell are a step in the right direction. Not just for important health and safety reasons, but also for productivity.
After all, your employees shouldn't stand for discomfort and health risks, but you shouldn't take a drop in productivity lying down.
Want to know more? Contact your local service centre on 0845 006 600 and ask about Wearwell Ergonomic Matting. Or if you're attending the ERIKS Innovation Excellence event at the MTC, Coventry, 3rd October 2017, visit the Wearwell Stand.
Source: Effect of flooring on discomfort and behavioral responses to prolonged standing.
Wiggermann and Keyserling
Related Posts