How long is a problem with a piece of hose going to hold up your process? A few minutes? A few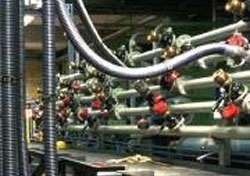 hours? A few days? It all depends on the nature of the problem, the type of hose, the knowledge available in-house, and the availability of a suitable replacement. But by establishing a National Hose Database for customers, ERIKS aims to cut hose problems and resulting downtime to the minimum.
Hoses aren't a problem until they're a problem. But then, whether it's a minor leak in a water hose or a major burst in a hose carrying dangerous chemicals, the consequences can range from extended downtime to employee injury, or anything in between. And once something goes wrong, the difficulties are only beginning.
For example, when a failed hose needs replacing, it often turns out there's no inhouse documentation or knowledge of what type of hose needs to be specified - depending on the temperatures it has to cope with, the pressure of the media flowing through it, the size and the flow rate required. That's bad enough if you're specifying a hose to carry a low temperature fluid or air, but could be fatal if you're transporting a corrosive chemical or high-pressure steam.

On the other hand, the maintenance engineer who decides to be proactive, and not wait for an accident to happen, will often find that there is little or no inhouse documentation or knowledge of when hoses were last tested or replaced. So it's impossible to identify which hoses are due for replacing, never mind what hose to specify.

Of course there's always some supplier who will tell you the hose you need and provide one which will do the job - more or less. But how much time do you waste by going through that process every time there's a hose failure; how much can you depend on the supplier's knowledge; and can you rely on the quality of the hose they supply?

It's to overcome all these time-wasting difficulties and eliminate all the uncertainties, that ERIKS is developing National Hose Databases for individual hose customers.

Everything you ever wanted to know about hoses…but no-one bothered to record. That's the amount of information which ERIKS will collate into a National Hose Database for any customer who requires it.

From the full hose specification to the in date, out date, due date of next test and result of previous test, the National Hose Database makes all essential information easy to find online, 24/7. In addition, a traffic light system highlights any hose which has failed a test or is overdue for testing, so it's easy to see which hoses need urgent attention. If there's a recommendation that a hose should be replaced within the next six months - even if it has passed its most recent test - this can also be recorded. Lastly, if proof of testing is required for Health and Safety or other purposes, the database will enable a hose test certificate to be printed directly from the site.

Straight from the hose's mouth
To ensure the ERIKS National Hose Database is as effective as possible, it does not rely on second-hand information about the hoses at a customer's facility. Instead, it is based on the most up-to-date information, collected and collated by ERIKS' own hose experts during a site visit.

This takes the form of a walk-around survey of the hoses on site, during which all hoses are inspected, identified, and - if they have not already been - tagged for easy identification in the future. The ERIKS survey results can also be cross-checked with any existing client hose register, before the customer's hose specifications, test results and testing calendar are uploaded to the ERIKS National Hose Database, as a onestop, always accessible, definitive record.

Once the database has been set-up, ERIKS will also establish a testing regime at a frequency agreed with the customer - whether this is every six months or just once a year, depending on the type of hose, types of media carried and so on. The uniquely comprehensive tests, carried out by experienced ERIKS hose experts - can include pressure testing with water, nitrogen or air, and internal inspections with cameras.

A hose by any other name…
ERIKS is the largest hose supplier in Europe, holding £9m of high-quality hose stock in the UK and €16m in Holland, and is the only hose supplier able to supply any hose a customer may require. This means most hose orders can be fulfilled and dispatched by courier on the same day as they are placed.

ERIKS supplies only the highest-quality hoses, and also manufactures hoses and supplies all necessary ancillary components. Inferior and cheaper hoses are readily available from other suppliers, but only ERIKS can supply all the hoses you may require, and of a standard you can depend on for safety and long life.

It is this comprehensive offering which has recently led a major multi-site UK chemical manufacturer to establish a National Hose Database with ERIKS, and to become an ERIKS customer for steam, air, chemical, water, powder, soap and water, low temperature, high temperature and cryogenic hoses for all its ten UK sites.

They realise there's more to a hose than just a length of pipe, and there's more to a good hose supplier than just the hoses they supply.
Related Posts: