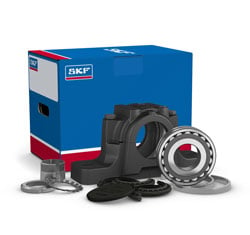 The all-in-one SKF Housing Kit, with pre-matched components, simplifies the process of developing a bearing system.
Rotating components, such as bearings, must be protected if they are to enjoy long, productive lives. A proven way of doing this is to use bearing housings – modular assemblies that streamline bearing and shaft installation while boosting protection, extending operating life and simplifying maintenance.
However, researching and ordering the component parts of a bearing housing unit can eat up time and money. Bearing housings are available in many sizes and categories – and that's just the standard range. Any non-standard designs – which might include special shaft centre heights, or unusual sealing arrangements – add further complexity.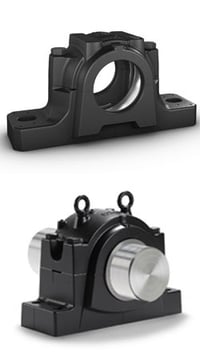 Happily, this tricky process can be sidestepped with an SKF Housing Kit. In a single package, it provides all the necessary components to create a bearing system: an SKF Explorer spherical roller bearing, a plummer block housing, and housing seals – plus locating rings and an end cover.
Kits like this help to relieve the customer of a lot of the design effort, as they contain high quality components that are pre-matched by SKF according to the specific application: the SKF Explorer spherical roller bearing has a high load-carrying capacity – both radially and axially – and is made from wear-resistant bearing material; and, the plummer block housing has good heat dissipation and is designed for simple mounting and dismounting.
The kit also includes a full set of housing seals and an end cover, for when the housing needs to be placed at the end of the shaft. Kits are available with either four-lip or V-ring seals. For bearings with a tapered bore, the kit includes an adapter sleeve complete with a lock nut and lock washer.
Quite separate to the engineering advantages, the SKF Housing Kit offers huge savings in time and cost, an easier ordering process and reduced inventory.
Related Posts