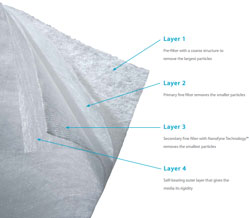 Just as cigarettes come with a health warning, perhaps some air filters should come with a 'wealth warning'. Because simply by changing your filter to a different type of technology, you can reduce your energy costs whilst still maintaining the level of filtration and airflow you need.
Whether you are using an air filter as part of your process (in a cooling, warming or venting system, for example) or to maintain an environment (as part of your air conditioning system) you face the same problem of maintaining an acceptable balance of filtration efficiency and back pressure. The higher the filtration efficiency, the higher the initial back pressure, and the sooner the filter becomes clogged – leading to a further increase in back pressure. In both cases, reduced air flow leads to higher energy use, as the fan has to work harder or run faster to push the air through the filter.
Developments in filter technology over the past few years have largely been aimed at achieving acceptable filtration levels without increasing back pressure or shortening filter life through faster clogging, and without increasing energy consumption through the need for a more powerful or faster fan. One way to do this is through an increased filter surface area – providing exceptionally low pressure drop – combined with high filtration efficiency and a high dust-holding capacity. This technology is now commercially available in the shape of the Vokes-Air Synsafe Revo filter.
The Synsafe Revo combines two advances in filtering technology.
Firstly, it utilises not one but four progressive filter layers. This not only means a greater dust-holding capacity but also ensures the filters have a longer life before the build-up of filtered particles increases and reduces efficiency to unacceptable levels.
The four layers comprise:
1. Pre-filter with a coarse structure to remove the largest particles
2. Primary fine filter to remove smaller particles
3. Secondary fine filter incorporating Nanofyne Technology™
4. Self-cleaning outer layer which also provides rigidity to the media
Secondly, the filters in the Synsafe Revo are made from nano fibres, using unique Nanofyne Technology. These fibres have a diameter of less than 1μm (compared with 3μm for fibres in conventional filters) which means they offer a greater fibre surface area for trapping dust, together with less density to create back pressure.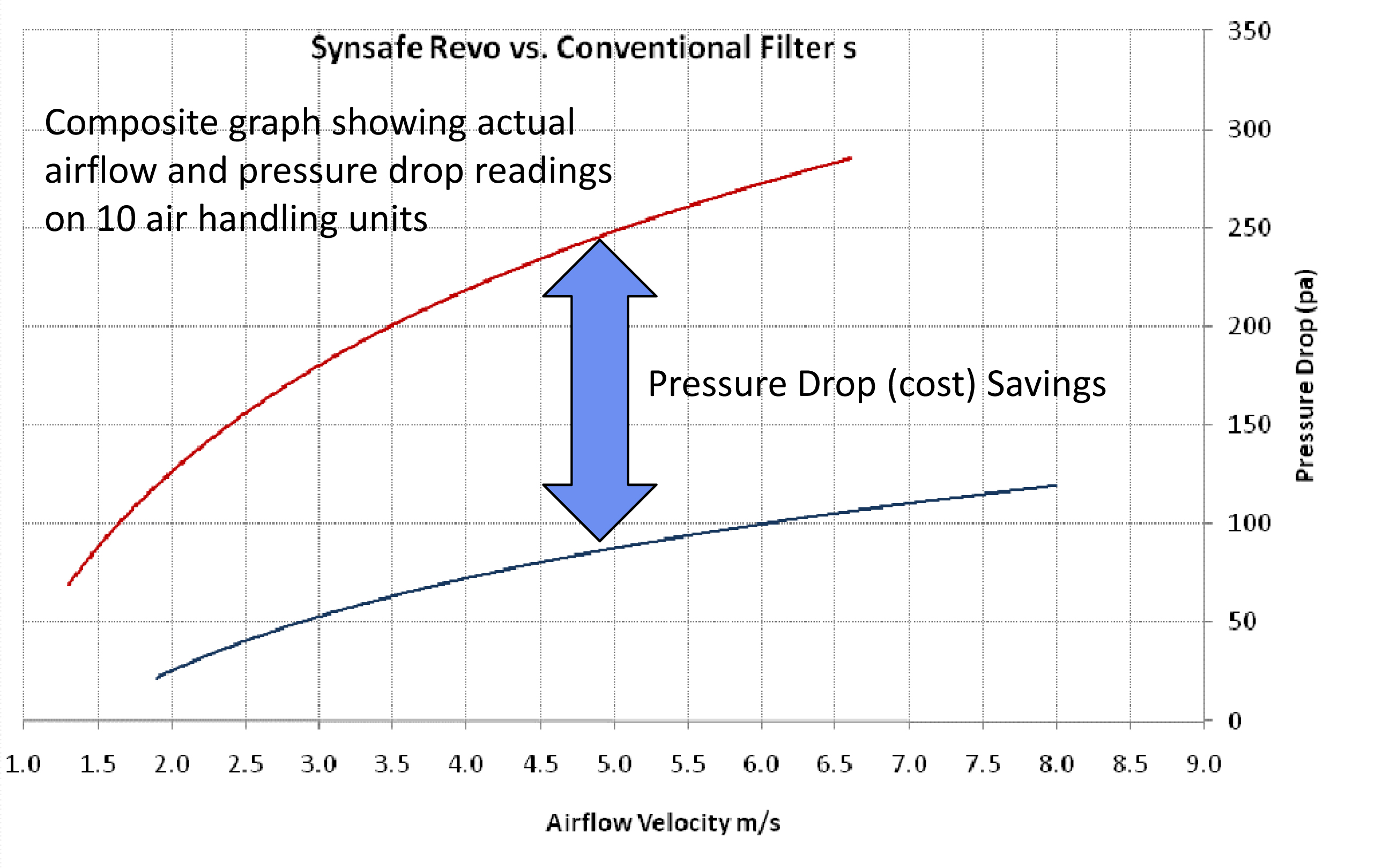 The result is higher filtration efficiency and a longer lower pressure drop, which means the fan operates at lower speed and consequently uses less energy. If the fan is belt driven, then this will provide the opportunity for a change of belt and pulley ratio to reduce the fan speed, or an inverter to provide speed control – both areas in which ERIKS can provide expert advice and assistance.
Click on the cover of the Synsafe Revo brochure below to download a copy.
Related Posts: