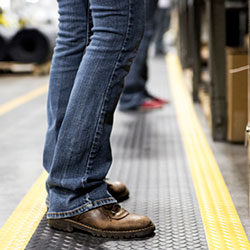 "This year I resolve to take better care of myself."
This is a common statement that many employees work hard to fulfil.
What are you doing as an employer to assist them in reaching their goal, and what benefits could this have for your company?
Wearwell have a few solutions...
Look Down
One overlooked improvement is the immediate space we are standing on. Look down... what is below your feet?
Hard tile floor? Unforgiving concrete?
Standing or walking on concrete is equivalent to a hammer hitting the heel. Sending shockwaves of discomfort through the body. Repetitive, continuous strikes caused from work done on a concrete surface causes 33% of occupational musculoskeletal injuries.
With our employee's commitment to better health, why not invest in an anti-fatigue mat or even install flooring in the workspace that offers a reduction in heel strike of around 60% over a concrete surface? In addition, the cardiovascular improvements reduces fatigue, which increases productivity. Now that's ergonomics for the musculoskeletal system.
Great scientific stuff
It's true! When standing on an anti-fatigue mat the strikezone is reduced and even eliminated through absorption.So no shockwaves into joints or lower back. Less pain factor means less stopping to comfort injured areas.
In addition unconscious shifting of weight / balance offers improved circulatory function delivering more oxygen through the blood to the muscles, heart and brain.
Ergonomic flooring and mats have come a long way since the original ideas in the 50's of standing on wood planks (which didn't offer much improvement over concrete), and the use of rubber in the 60's, although recycled rubber material is utilised a lot today in new mats, offering a level of sustainability.
There are additionally, new materials such as urethane and polyofelin, which make some amazing mats and runners utilised in many manufacturing enviroments.
The Financial Impact
On another note, let's talk for a moment about business and the financial impact. Most employers already have some type of a safety program in place. In which case there is already some type of budget investment set aside to prevent or reduce injuries.
Ergonomic flooring and mats play a crucial role in reducing slips, trips and falls. Then add to that total the cost savings from reduce injuries, lost work days, and insurance. The ROI can be phenomenal.
So, improving the health of the industrial athlete can easily be accomplished, simply by providing a better playing field for them to perform on. There is already budget in the safety program as ergonomic flooring and matting have reduced slip, trip and fall statistics.
So What Next?
Essentially two goals can be accomplished. If you're still not convinced you can go to www.wearwell.com/uk and order a sample of a mat that fits your specific area. Stand-on the mat or flooring sample, then stand-off. Stand-on... then stand-off. You will quickly feel the difference.
Then contact ERIKS (0845 006 6000) if you need further assistance or to order the ergonomic flooring and matting solutions that meet your needs.
Related Posts: