Health and Safety inspections cause headaches at the best of times, but combine this with 4 different sites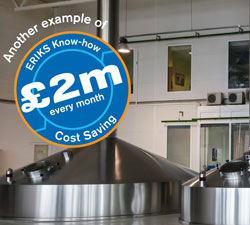 and endless hoses, finding the appropriate text certificate at the push of button can be a problem - but not when you enlist the help of ERIKS Hose Technology.
Situation
Heineken had no system in place to manage its hoses. They had no idea how many hoses they had or their condition and could not find the appropriate test certificates when requested by their Health and Safety department.
Solution
ERIKS Hose Technology set up an on-going regime of twice yearly on site hose inspections coupled with a customised online register that spanned the four sites. The information gained from these on site tests was then entered onto the online register and included details such as copies of the test certificates and videos of the internal inspections. This database was customised to the clients' exact requirements enabling them to quickly drill down to see the hoses located at a particular site, and the details associated with each hose.
Saving
They are now able to print test certificates as needed ensuring Health and Safety visits are handled with ease, they also have 24/7 access to the data enabling maintenance engineers to function more effectively using their resources to maximum affect.

In addition the register records which hoses need replacing when they have failed, as well as the hose being tagged with a failure notice. This ensures prompt purchasing of replacements so that production are not hindered, removing damaged hoses from use preventing any potential health and safety issues. Hoses identified in need of imminent replacement are also colour coded on the register so that purchasing staff can react in a pre-emptive manner and avoid production delays.
Download a copy of the full case study below.
Related Posts: