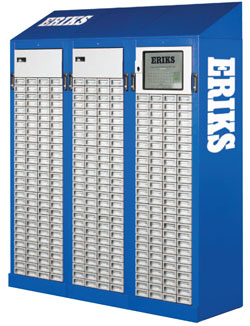 Storeroom solutions and vending technology - the key to optimising your stores control, perfect for any industry.
Engineering stores are a prime opportunity to aid improvements in productivity and efficiency, however big or small a stores area may be its organisation and operating processes can be greatly enhanced with the right expertise applied, like the know how from the ERIKS Storeroom Services team. It has the potential to increase operational efficiency, enhance productivity and reduce costs.
Solutions for the quarrying industry
To allow easy access to consumables and PPE, which is becoming an increasingly important issue, vending technology is the perfect solution.
ERIKS can show you how you can release capital tied up in engineering stores and minimise costs with innovative storeroom solutions. Vending technology provides a time effective storage solution, which allows easy access to many products. It is especially important that PPE is easily accessible to adhere to new legislation, alongside allowing much greater control over stocks and allowing easy management.
28 Level vending technology
Above is an image of the 28 Level vending machine, it is a perfect example of how hundreds of items can be stored in one place, but securely and safely.
The 28 Level is a versatile and highly reconfigurable automated dispensing system providing numerous benefits such as: 24/7 availability of items; control of inventory; reduced operating costs; optimised inventory levels and increased productivity.
Combined with a powerful inventory management software suite the 28 Level provides a secure solution, with a built-in reporting and audit trail.
To discover more about our On-site Solutions services
Related Posts: