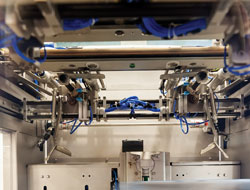 Balancing the performance characteristics required of cables, against the tough hygiene requirements and operating environments of the food, beverage and packaging industries, is like walking a tightrope for cable manufacturers.
With a potent mix of chemicals, a wide range of temperature variations, and a variety of physical stresses to contend with, cable solutions for the food, beverage and packaging industries need to satisfy a huge variety of demanding criteria. In refrigeration areas or moist atmospheres, and from aggressive acids to equally aggressive alkalines, they need to be able to stand up to the worst without fatigue, degradation or failure.
Equally, food and beverage producers need to know that not only will their environment not harm the cables, but also that the cables won't harm the products they come into contact with.
It's a difficult balance to achieve. But as one of the world's leading providers of cables, and with 40,000 standard items available from stock, Lapp Group has the cable solutions for control, connection and conduits.
Robust by name…
The ÖLFLEX® ROBUST range of flexible control and connection cables is UV resistant, tough, and robust even when exposed to aggressive substances such as vegetable based oils, fresh, processed or sewage water, cold, warm or even – for short periods – hot beverages, or a number of chemicals.
The outer sheath lasts far longer than a standard rubber version: under exposure to heated steam, more than ten times longer, in fact. And the cables themselves are harmless to foodstuffs – being free from evaporating substances and from heavy metals or other RoHS blacklisted substances.
Available for connection or control – with or without a copper braided screen – the ÖLFLEX® ROBUST range also includes a highly-flexible version for constantly moving applications.
A classic solution
The polyurethane-sheathed cables in the ÖLFLEX® CLASSIC range combine tear-resistance and flexibility with high tensile strength, very high resistance to mechanical and chemical damage, and high-resistance to tangling and knotting.
ÖLFLEX® CLASSIC 400P - For high resistance to chemicals, oils, greases and other aggressive substances. ÖLFLEX CLASSIC 400CP contains a tinned copper wire braid for environments where EMC is a consideration. Both versions are suitable for use in a temperature range of –5°C to +70°C.
ÖLFLEX® CLASSIC 450P - Featuring a PVC inner sheath for increased durability. The yellow polyurethane outer sheath is flame-retardant and resistant to chemical agents, diluted acids and aqueous alkaline solutions.
ÖLFLEX® CLASSIC 440P - Offering the same mechanical and chemical resistance as the 400P, but with TPE core insulation – enabling use in a temperature range from –40°C to +90°C. Also available with a tinned copper wire braid to meet EMC regulations.
Making the connection
The world-renowned SKINTOP® Cable Gland is now approved to IP69K rating, in accordance with DIN 40 050. So now it can connect even in applications with the harshest cleaning procedures, involving high-pressure cleaners and hot water.
The SKINTOP® ST-M range of glands is made from glass-reinforced nylon, in a choice of colours, and thread sizes from 12–63mm. It can accommodate cable with an outer diameter from 1–45mm.
The SKINTOP® MS-M range is made from nickel-plated brass, for use in areas with a high mechanical demand and a need for chemical resistance. Available in thread sizes from 12–75mm, the range can accommodate cable with an outer diameter from 1–68mm.
High-tech solution
Where automation is at an advanced level, it places a high level of stress on conventional cables, leading to fatigue and failure. However, the ÖLFLEX® FD range of robotic cables has been specially designed for high-technology applications, and as one of the most flexible available is able to withstand rigorous and heavy duty operations.
The cable make-up includes very fine wire conductor stranding, with a high rate of twist on the strands and conductors. The increased rate of twisting reduces stress at the point of bending. Other features include extra chalk, textile separator tapes, and a specially-formulated polyurethane sheath for hydrolysis and microbe resistance. Very small bend radii and copper braid versions are also available.
Lapp also manufacture two conduits: in coiled corrugated plastic and in halogen-free stainless steel.
The SILVYN® FD-PU plastic conduit is highly flexible and offers protection against oil, grease and benzene at high temperatures. The SILVYN® SSUE stainless steel conduit is ideal for measurement, instrumentation and safety applications in the food and beverage industry.
Making your mark
When you've chosen your Lapp cable, you can leave your mark on it with the Lapp FLEXIMARK® kit. Featuring stainless steel character holders, character strips and cable ties, the kit makes it easy to mark cables, components, pipes and devices in demanding and aggressive environments.
When The Going Gets Tough
The most common cases of cable failure in the food and beverage industries are microbe infestation and hydrolysis.
Microbes and bacteria can degrade cables made with organic substances – and even high levels of cleanliness won't prevent the natural degradation process. Cable sheaths can also become a nutrient medium for microbes and bacteria, providing a breeding ground as well as degrading the insulation material.
With water and steam jets used for high-pressure cleaning in the food and beverage industry, hydrolysis – or flushing of substances from the sheaths – is a frequent occurrence. This allows degradation to begin, and the insulating material also becomes brittle.
If you've marked any of these Lapp products as being suitable for your cabling requirements, contact your local ERIKS Service Centre.
Related Links: