Bearings can be found in a vast range of machinery, Including electric motors, pumps, fans and electrical appliances. And many of those bearings will be made by NSK – one of the world's largest bearing manufacturers. So every product improvement and new development from NSK can make an important contribution to a lower friction, smoother operating, more energy-efficient and sustainable society.
The world's most widely used bearing is the single row deep groove ball bearing, with its open and sealed standard variations. 'Pre-greased for life' bearings, with a seal at either side, contain enough grease to outlast most general applications under normal operating conditions. This is not only environmentally friendly – helping reduce grease use – but also saves on maintenance and reduces costs.
Seals can also be 'contact' or 'non-contact'. The non-contact ZZ metallic shield helps keeps the grease in place and larger contaminants out of the bearing. For more arduous service conditions, a DDU seal in full contact with the inner ring increases grease retention and excludes a wider range of contaminants from entering.
Fighting friction
The dynamic co-efficient of friction of an open deep groove ball bearing is approximately 0.0013, which results in low torque operation. But adding a contact seal to both sides of the bearing increases torque and makes the bearing a significant factor in overall machine efficiency.
In fact, adding a contact seal can increase the running torque of a deep groove ball bearing by more than five times.
The innovative NSK solution combines the low running torque of a ZZ shielded bearing and the contamination protection of contact DDU seals. The non-contact VV rubber seal is moulded so that its sealing lip sits tightly in a unique groove found on the inner ring of all standard NSK deep groove ball bearings (10mm bore diameter upwards).
This creates a very fine clearance labyrinth, resulting in zero seal drag, low starting torque, maximum operating speeds, no excessive heat, and increased grease retention and contaminant protection compared with the shielded design.
Aircraft quality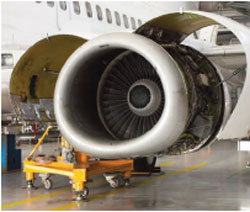 The materials and manufacturing quality of NSK bearings also help with energy-saving and sustainability.
NSK developed a near aircraft quality, ultra-clean, SUJ2 vacuum-melted bearing steel. Its minimum oxygen content means sub-surface initiated failures are dramatically reduced, so fatigue life is increased and machine downtime reduced.
NSK also uses a proprietary method to super-finish the raceways at the submicron level, for less wear at start-up, better lubricant performance and smooth, quiet operation. All popular NSK metric deep groove ball bearings meet the reduced 'E' noise class as standard.
Combining these energy-efficient qualities with one of NSK's VV sealing solutions, for example, means choosing an NSK bearing goes a long way towards maintenance-free energy efficiency – and towards a more sustainable society.

More from NSK: