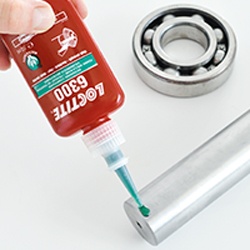 Protecting our workforce and environment through ever tightening health and safety rules has a double edge. Of course, it's in everyone's interests but for those whose job it is to evaluate the suitability of hazard-labelled products against process needs and company policy, tougher legislation means a lot more work.
The quick fix is to select products that are free from hazard labelling. In reality though, are they as effective as their counterparts whose constituents require them to display health and safety symbols? In the case of the LOCTITE® Health and Safety range from Henkel, the answer is a resounding 'yes'.
Complete range of solutions
Henkel was the first to develop anaerobic engineering adhesives as a viable and safer alternative to solvent-based products. Through continuous development the technology has evolved into a highly effective and comprehensive product range that is hazard label free and which covers the lion's share of bonding, threadlocking, thread sealing, gasketing and retaining applications.
The European Classification, Label and Packaging (CLP) Regulations have been a big driver of change in recent years. These strict rules have required even common household products, that were once considered to be hazard-free, to carry warning labels.
This serves to illustrate the harmless quality of today's LOCTITE® Health and Safety range. When these products were introduced, their chemical components required no hazard labelling but that wouldn't be the case now. The latest generation of these products are therefore brand new formulations that have kept pace with the new classification.
These Health and Safety products are designed to make the Control of Substances Hazardous to Health (COSHH) assessment and acceptance process for engineering adhesives as easy as possible. Instead of safety information running to maybe a dozen or more pages, all the details needed for these products are typically contained in four.
These products require no hazard symbols, risk or safety phrases and do not contain any declarable carcinogens, mutagens or reproductive toxins.
First choice
The range has now become Henkel's front line offering, with its products carrying health and safety symbols providing a supporting role when a specific performance characteristic is required.
Initially the range was focused on threadlocking, thread sealing, gasketing and retaining. For threadlocking Loctite 2400 and 2700 respectively provide medium and high strength seals – a highly cost effective method of preventing unwanted movement, loosening, leaks and corrosion.
From an application point of view the Loctite® threadlockers overlap to a degree with the Loctite® 5400 thread sealer. Its primary role, however, is to seal and lock to prevent leakage of gasses or liquids. There is no danger of joint corrosion and the fastener can be released at any time.
The job of Loctite® 5800 gasketing product is to provide a perfect seal between components with maximum face-to-face contact, eliminating flange face corrosion that can lead to minor leakages. Completing this foundation range is Loctite® 6300 retaining compound, typically used to secure bearings in housings achieving maximum load transmission, uniform stress distribution and the elimination of fretting corrosion.
The success of this core range has now led to the introduction of a range of hazard label free cyanoacrylates. These are instant glues available in a choice of viscosities to suit the application. And most recently the Health and Safety range has been extended to include silicones, ideal for sealing all kinds of flanges on pressed, cast and plastic parts, in any combination.
Related Posts