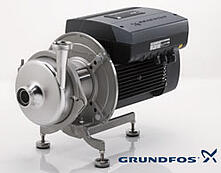 Are you looking for a new or replacement Centrifugal Hygienic Pump? Are strict Hygienic standards and efficient operations critical to your business?
Grundfos understand that unreliable, inefficient pumps are as harmful to business operations and cost-saving efforts as they can be for the environment. Across brewery, dairy, food and beverage and pharmaceutical industries, a failed hygienic pump results in business downtime that has damaging knock-on effects.
With the acquisition of Hilge in 2006, Grundfos became a world-leading manufacturer of high-grade stainless steel hygienic pumps, supporting businesses that operate within strict hygienic standards.
F&B-HYGIA PUMPS
The F&B Hygia pump by Grundfos offers reliable, cutting edge technology and customer-specific adaptability that ensures optimal functioning and performance for the specific task that it is required. Designed for CIP and highly reliable, the F&B-Hygia is made of cold drawn AISI316 stainless steel with an open impeller and mechanical seal positioned in the flow of the product for optimum cleanability. In short, theh F&B Hygia pump does what you need it to do, exactly how you need it done.
The F&B Hygia pump meets the 3A sanitary standard, the recommendations of the European Hygienic Engineering Design Group (EHEDG) and is designed for cleaning in place (CIP). This has the capacity to deliver:
Significant financial and environment energy efficiency benefits
True field-proven reliability
Accessible, responsive service
Genuine spare parts
The F&B-HYGIA range ensures both peace of mind and cost efficiencies - so to get the best from your hygienic systems - demand Grundfos!
The Grundfos Sanitary Range Leaflet available here:
Download the Grundfos Food Applications Pumps Brochure here:
ERIKS understand that products that do not comply with sanitary standards, can cause contamination and harm consumers. Creating a safer and healthier working environment for both customers and employees is a part of ERIKS Planet+ initiative. Discover more about Planet+ and how ERIKS can help your business become more sustainable.
Related Posts: