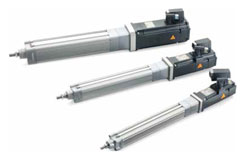 The need for industry to reduce energy use is not going away any time soon. Two possible solutions, as Rob Jenkinson, Director Corporate Sustainability from SKF explains, are the bearings that reduce friction in electric motors and moving from traditional hydraulic or pneumatic actuation to electro-mechanical linear drives.
As energy awareness evolves, matures, and combines with increasing environmental consciousness, more businesses are realising that energy use reduction can be about being green as well as staying out of the red. As we are all becoming more environmentally conscious, manufacturing industry seeks ways.
To make their activities greener to match our expectations as consumers. On top of this, there are increasing regulatory requirements on businesses – in the UK for example - the Carbon Reduction Commitment (CRC) to the Energy Savings and Opportunity Scheme (ESOS).
As a result, reducing the amount of energy used, increasing the energy efficiency of applications and components, and therefore reducing their carbon footprint, is now a top priority for many businesses. Some more forward-looking businesses are going further still, taking action not simply to reduce the negative impacts of their own operations, but to accentuate the positive by putting a focus on developing products and solutions which help their customers by providing or enabling significant environmental performance improvements.
In other words, reducing or eliminating your own operational negative environmental impact is only the first stage. Delivering positive environmental benefits to your customers is an even more effective second stage.
Automating Energy-Saving
As industrial processes have become increasingly automated, as part of the push to improve energy efficiency, linear drive technology has come under intense scrutiny.
Traditionally, most linear drive systems have been pneumatically or hydraulically driven. But in many applications, electromechanical systems are beginning to replace them.
Pneumatic and hydraulic systems do still offer a number of advantages – depending on the specifics of the application and the operating environment – but electric cylinders:
Require less ancillary equipment,

Are cleaner,

Are more reliable,

Demand less machine downtime

for cleaning and maintenance and, most importantly,

Are more energy efficient.
Hydraulic systems typically require around 40% more energy than electric cylinders, while pneumatic systems may require up to 90% more energy due to the inherent inefficiency's in these systems. This is due to the energy losses inherent in compressed air systems such as the rejected heat, piping losses, the leaks etc. Likewise in hydraulic systems – converting from electrical energy to pressurised hydraulic fluid energy incurs losses which are avoided with the direct mechanical link from the motor to the actuation rod in an electromechanical actuator.
Facts About Friction
Electric motors are an energy expensive component. They consume a total of approximately 1.36 trillion KwH per year in the EU and USA alone, so increasing their efficiency represents a massive opportunity for industry.
One way to do this is to reduce friction. Reducing friction in the rolling bearings used in motors will reduce the amount of energy required by the motor itself. Specially-engineered rolling bearings can significantly lower friction, resulting in impressive energy savings. Lower friction also means the bearings run cooler than a basic-design bearing, which extends bearing life due to the improved lubrication properties at lower temperatures.
Good For Business And The Plant
Reducing energy use – which in turn can decrease greenhouse gas emissions – and minimising air and water pollution, can all deliver cost benefits in the short term, by reducing running and maintenance costs. In the long term, emphasising green credentials to customers and potential customers can only help to win business and increase customer loyalty.
In the even longer term, saving energy helps to reduce emissions and that's not just good for business – it's good for the planet too.
SKF BeyondZero
In 2005, SKF launched a new strategy for reducing environmental impacts, called SKF BeyondZero. The strategy drives actions to reduce the impacts of SKF suppliers as well as SKF's own operations (reducing the negative impacts), while in parallel developing solutions with our customers that help them do the same (increasing the positive impacts).
The SKF BeyondZero portfolio spans SKF's five platforms of bearings and units, seals, lubrication systems, mechatronics, and services, across every industry in which the company is present. To be included in the portfolio, a solution must deliver or enable significant environmental performance improvements.
Two examples of products within the SKF BeyondZero portfolio with wide-ranging applications in any manufacturing business are SKF CASM electric cylinders, and SKF Energy Efficient bearings.
SKF CASM – an electromechanical solution for linear drives – can provide energy savings of up to 90% compared with pneumatic systems* – resulting in important cost savings and reductions in environmental impacts.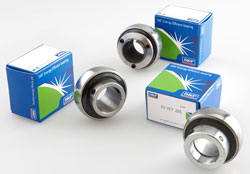 SKF Energy Efficient (E2) performance-class bearings also offer dramatic improvements over other options. Specially engineered and manufactured to reduce frictional moment by 30% or more beyond SKF's already efficient standard bearings, the reductions can be even more dramatic when compared with other manufacturers' bearings.
Available in a wide variety of bearing types, SKF E2 bearings run 5-30°C cooler than SKF basic design bearings, depending on operating conditions. SKF E2 Y-bearings have been designed for applications in which reduced energy usage is an important concern. Under normal operating conditions, they also have a considerably longer grease service life than a standard SKF Y-bearing, helping to reduce lubricant consumption.
* Swiss Federal Office for Energy
Related Posts