Motor efficiencies are well known, IE2 or IE3, you pay your money and take your choice, depending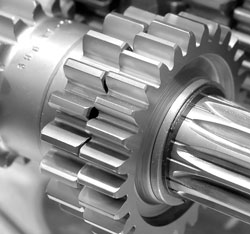 on how much you are willing to invest at the time, but do you think about selecting your geared motor units in the same way? If not, then why not?
Choosing the most efficient geared motor unit can be a little more difficult as there is currently no industry standard, but rest assured there are educated choices you can make when selecting a geared drive for your application.
Efficiencies can range from under 50% up to 95%, dependent upon the unit size, ratio required and the type of internal gearing utilised, so where do you start?
Let's take a working example:
A conveyor requires a right angle drive solution, generating a torque of 1,300Nm with an operating speed of approximately 15rpm, this results in a calculated absorbed power of 2.04kW.
Now three solutions, the associated efficiencies and running costs based on the above example:
A typical single reduction worm gear unit could have an approximate efficiency of 65%. To produce 1,300Nm you would need to fit a 4kW motor, with an annual operating cost of around £1,632
A typical helical worm gear unit would have an efficiency of around 80%. To produce 1,300Nm you would need a 3kW motor, with an annual operating cost of around £1,224

However, the jewel in the efficiency crown, is the

helical bevel unit

with 95% efficiency. This will only need a 2.2kW motor to generate the required 1,300Nm, and annual operating cost would be approximately £1,032

So what would the payback period be?
As you can see above, the annual operating costs could vary by as much as £600 between the worm unit and the helical bevel. The initial purchase price for the helical bevel would be higher, but a simple calculation would show a total cost of ownership for both versions, this would indicate when payback is achieved and the full benefit of the efficiency savings start to be realised. As an example the purchase price of the more efficient unit could easily be £500 higher than the worm unit, but as you can see the operational savings available would result in a payback period of roughly 12 months, not to mention the reduction of your carbon footprint and contribution towards your CSR commitments.
As you can see we have ranged from a 4kW unit down to a 2.2kW geared motor, all doing exactly the same job. Of course there are many other considerations to betaken into account when choosing geared motors, but thought should always be given to gearbox efficiencies when making selections.
Fenner produce a comprehensive range of geared drives and would be able to provide all the relevant operational efficiency information when selecting drive packages to suit any application.
Remember IE2 and IE3 motor efficiencies can vary by a few percent, but different types of gearboxes can vary in efficiency by over 40% on occasions – so it's alwayswise to consider this when making a selection.
* calculations based on 6000 hours per annum operation , electricity cost of £0.08 per kWhr
Related Posts: